Residents of New England appear to suffer the highest incidence of rosacea in the United States, while those in Hawaii may be affected the least, according to a geographic analysis of National Rosacea Society (NRS) membership data.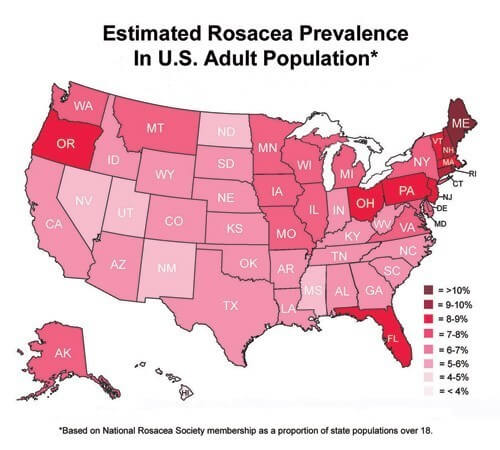 In the new state-by-state estimates, Maine, Rhode Island, New Hampshire and Connecticut are shown to have the greatest prevalence of rosacea, each registering over 10 percent of their adult populations.  Meanwhile, Hawaii scored the lowest incidence at 2.7 percent, and the prevalence rate was under 5 percent in New Mexico, Mississippi and North Dakota.
"While these figures provide only a rough estimate, they appear to be consistent with what is generally known about the disorder," said Dr. Jonathan Wilkin, a leading authority on rosacea and former director of Dermatologic and Dental Drug Products at the U.S. Food and Drug Administration.  "Rosacea has been found to be very common in the fair-skinned people of England, Ireland and northern Europe, so it's not surprising to see such a high incidence in New England, the industrial Midwest and other areas with large concentrations of these ancestries."
In an NRS survey of 600 rosacea patients, nearly 52 percent reported that a family member had also suffered from rosacea, and 42 percent said they were of Irish, German or English ancestry.
"In addition to genetics, a more temperate climate may also contribute to this prevalence pattern, as changes in temperature are common factors that can exacerbate the condition," Dr. Wilkin said.  He noted that Florida may be an exception because of its large number of retirees from the Northeast.
In order to map the estimated prevalence of rosacea in the United States, the NRS analyzed the zip codes of its 82,720 members to determine their states of residence.  Then, by using the number of NRS members, the 2010 U.S. Census data and the estimated total number of Americans with rosacea, the NRS was able to project an estimated percentage of individuals with rosacea over the age of 18 in each state.