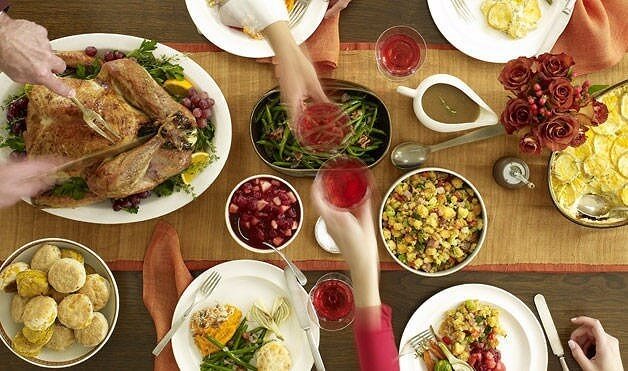 Thanksgiving is a time to celebrate with family and friends, but it can also be a time when potential rosacea flare-ups could make the festivities less enjoyable. Here are some tips for managing your condition during Thanksgiving and the rest of the holiday season.
Keep it Cool: Heat is a major rosacea trigger for many people. If you're hosting a Thanksgiving gathering, plan to maintain a cool house temperature either by opening windows or using the air conditioning. Consider how many more people will be in the house and how long the oven and stovetop will be used, and anticipate the temperature spike. 
Kiss the Cook: ...assuming it won't be you! Avoid the kitchen on Thanksgiving if you can – or at least keep a window open – because it's sure to be hot from the roasting turkey and steaming pots of food. Help out by setting the table or doing prep work instead. 
Plan Ahead: Stress is one of the most common triggers for flare-ups, so it should be avoided as much as possible. Do all the prep work you can in the days leading up to Thanksgiving so you're not rushing the day of. This may mean grocery shopping early, baking ahead of time, packing bags, cleaning the house, or setting tables and decorating in advance. And don't forget to use relaxation techniques.
Be Careful with the Menu: If certain foods or spices trigger your rosacea, it's important to ask about the ingredients before you put anything on your plate. Remember red wine is another top cited trigger in patient surveys. Heated beverages can also cause rosacea to flare up, so forgo the coffee and tea, or let them cool down before you sip. If punch, cocktails or mulled beverages are an important part of your holiday menu, consider making a fun mocktail from our Pinterest board to be enjoyed by all, including children.  
Take Black Friday Slow: Holiday shopping deals abound, but Black Friday can also be a minefield for rosacea patients. The stress of the crowds, the physical exertion of lugging gifts around, the extreme temperature changes going in and out of stores, and the danger of overheating from wearing coats indoors all pose a risk. Take things easy and try to find ways to cool off and stay calm.
Maintain Routine: In the chaos of the holiday, don't forget your normal medication and skincare routine. Slip away and make a little time for yourself. Flare-ups tend to happen when we fall out of routine.
Photo courtesy of Satya Murthy.