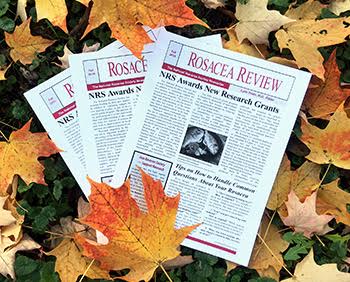 The autumn issue of Rosacea Review is now available for online reading. This season's newsletter includes an announcement of the 2016 research grant recipients. Read about three new and two ongoing studies that investigate a range of aspects of the disorder, from epigenetics to the role of hormones in rosacea.
In other research news, there may be a link between rosacea and gastrointestinal disorders. The results of this new comorbidity study focus on the prevalence of celiac disease, Crohn's disease, IBS and ulcerative colitis in people who have rosacea. Other new research suggests there might be a link between rosacea and insulin resistance, a precursor for diabetes. 
If you aren't sure how to respond when asked about your skin, read the Tips on How to Handle Common Questions About Your Rosacea. Remember you are not alone — rosacea affects an estimated 16 million Americans. 
A recent NRS survey shows that although most rosacea patients experience symptoms of ocular rosacea, few receive treatment for their eye irritation. 
In addition to seeking medical treatment for ocular rosacea symptoms, you might consider incorporating more fish into your diet. A study shows consuming omega-3 fatty acids may be an effective way to fight dry eye symptoms. 
The latest issue also includes a patient success story. Cielo Figuerola describes how she learned to manage her rosacea despite working outdoors in a tropical environment. 
Read the new issue online here. If you haven't already, please also take the new survey on social perceptions of rosacea. Results will appear in a future Rosacea Review.
Join the NRS or make a donation to renew your membership today. Your donation will be used to help fund the Society's important medical research grants program.