Sponsored post
The following announcement was issued by Galderma Laboratories, L.P.:
If you are currently suffering from the bumps and blemishes of rosacea, they may be all you see when you look in the mirror. But it doesn't have to be that way. First, know that you are not alone. There are an estimated 16 million people in the United States suffering from rosacea.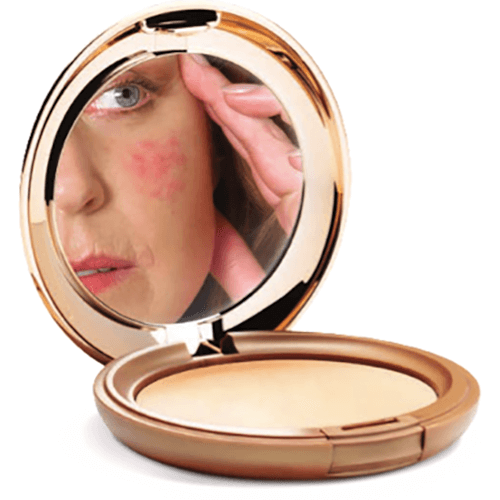 Second, stop letting that "annoying companion" upstage you! The good news is: treatment can help. ORACEA® (doxycycline, USP) 40 mg* Capsules, can help treat the bumps and blemishes of rosacea in adult patients. ORACEA Capsules are a once-daily treatment that work from within to target and relieve the bumps and blemishes of rosacea. Ask your doctor about ORACEA Capsules, the #1 rosacea brand among dermatologists,** and see if it may be right for you.
According to a 2014 survey by the National Rosacea Society, many rosacea sufferers reported that the disease makes them feel frustrated, anxious, and helpless. In some cases, rosacea symptoms can evoke feelings of depression, and may prompt sufferers to isolate themselves and avoid face-to-face contact with other people.
For people with rosacea, or those who suspect they might have the condition, it is important to contact a dermatologist or other health care professional to help manage the condition. Although there is no cure for rosacea, there are effective treatments available, such as ORACEA Capsules, that can help manage your symptoms.
Schedule an appointment with your dermatologist to see if ORACEA Capsules may be right for you. You can learn more at https://www.oracea.com/.
Important Safety Information – Oracea® Capsules
Indication: Oracea® (doxycycline, USP) 40 mg* Capsules are indicated for the treatment of only inflammatory lesions (papules and pustules) of rosacea in adult patients. Oracea Capsules do not lessen the facial redness caused by rosacea. Adverse Events: In controlled clinical studies, the most commonly reported adverse events (>2%) in patients treated with Oracea Capsules were nasopharyngitis, sinusitis, diarrhea, hypertension and aspartate aminotransferase increase. Warnings/Precautions: ORACEA Capsules should not be used to treat or prevent infections. Oracea Capsules should not be taken by patients who have a known hypersensitivity to doxycycline or other tetracyclines. Oracea Capsules should not be taken during pregnancy, by nursing mothers, or during tooth development (up to the age of 8 years). Although photosensitivity was not observed in clinical trials, Oracea Capsules patients should minimize or avoid exposure to natural or artificial sunlight. The efficacy of Oracea Capsules treatment beyond 16 weeks and safety beyond 9 months have not been established.
*30 mg immediate release & 10 mg delayed release beads
**According to data from Symphony Health Solutions, Pharmaceutical Audit Suite, January 2015-December 2015.
You are encouraged to report negative side effects of prescription drugs to the FDA. Visit www.fda.gov/medwatch or call 1-800-FDA-1088.
All trademarks are the property of their respective owners.