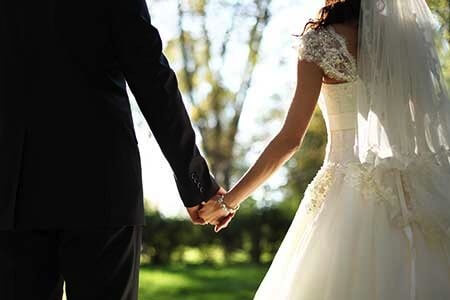 Saying "I do" is one of the most important days in many people's lives, but everything from emotional stress to environmental factors can cause your rosacea to flare-up on the one day you need it to stay away. Whether you're walking down the aisle or are just a participant in the festivities, there are certain precautions and day-of steps that may help ensure you look picture perfect on the big day.
Avoid Personal Triggers
At least a month before, be sure to steer clear of your personal triggers to prevent any flare-ups. Many sufferers have reported alcohol, spicy foods and emotional stress to be top triggers, but what bothers one patient may not affect you. The NRS offers a convenient "Rosacea Diary" that can help you identify and avoid your specific tripwires. These other tips for identifying your triggers might also be helpful.
Visit Your Dermatologist
Long-term use of medical therapy is critical for preventing or minimizing rosacea flare-ups. A recent survey revealed that one quarter of rosacea sufferers turn to makeup instead of medical therapy when symptoms strike, but there are a variety of treatment options available that can make loading up on cosmetics less necessary. If you haven't visited a dermatologist recently or at all, consider taking this very important step at least three months before the wedding to receive proper diagnosis and treatment. If you are already seeing a doctor who treats your condition, book an appointment as the big day nears to talk through a wedding day treatment and skin-care plan.
Say "I Do" to Sunscreen
Summer is a known nemesis for many patients, as 81 percent of surveyed patients reported that sun exposure is their top rosacea trigger. With all of the pre- and post-wedding activities -- and if the wedding is outdoors -- you may be exposing your face to a rosacea trap. Apply a sensitive-skin sunscreen before going outdoors and seek shade whenever possible. If you suffer from ocular rosacea, wear wide-rim sunglasses to protect your eyes.
Keep Cool
Medical research has found that rosacea patients may produce greater nerve activity, blood flow and sweating responses to heat and stress than those without the disorder when exposed to increased heat or stress, and these responses may be correlated to a flare-up. Cool yourself down throughout the day by keeping ice cubes, a personal fan, bottles of cold water or even ice packs nearby. Practice mindfulness and consider meditation to help stay relaxed. Keep a "Beauty Safety Kit" If you have to turn to cosmestics for coverage during your big day, this rosacea patient offers a great tutorial video for achieving good coverage of any visible signs of rosacea. Makeup can fade, so keep a "beauty safety kit" handy for touch-ups that includes concealer and powder, and try to apply makeup in natural light if possible so that coverage will look even and you avoid any makeup lines. If a professional is doing your makeup, come prepared with your own cosmetics to prevent potential reactions to unfamiliar products.