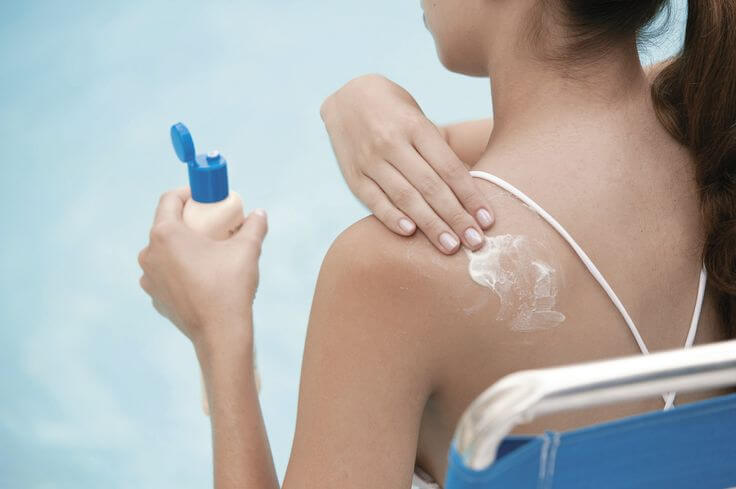 When you get into a vehicle, it's likely you immediately reach for the seat belt to protect yourself in a potential car accident. If you suffer from rosacea, hopefully you reach for a bottle of sunscreen for protection when going outside as
81 percent of patients have cited sun exposure
as a common trigger for rosacea flare-ups.
But just as seat belts can only do so much for your safety on the road, many of us may put too much faith in sunscreen as the ultimate defender against the sun's UV rays, and could be spending more time exposed than we realize.
"Patients who use sunscreen to protect against flare-ups may often have a false sense of security that they can spend more time exposed to the sun," said Dr. John Wolf, chairman of dermatology at Baylor College of Medicine. "While sunscreen can help provide protection from the sun's rays if used properly, patients should keep in mind that it is not the ultimate solution, and minimizing exposure to the sun's UV rays is the best prevention against sun damage and sun-related flare-ups."
Before hitting the beach or the
golf course
this summer, make sure you are using sunscreen properly with these simple tips.
Choose the Right Sunscreen
Sunscreen works by reflecting or absorbing rays and slowing down the process of exposure, and the higher the SPF, the higher the percentage of UVB rays that are blocked, which is why dermatologists recommend at least an SPF of 30. But UVA rays are also harmful to your skin. Not all sunscreens are created equal, so look for a broad-spectrum formulation that protects against both types of UV rays with a sun-protection factor (SPF) of at least 30. To protect against heat, use a sunscreen that reflects rather than absorbs radiation, such as those containing non-chemical physical barriers like zinc oxide or micronized titanium oxide. Work with your doctor to choose a formulation that won't irritate your skin.
Follow the 15 & 2 Rule
When you apply sunscreen, how often you apply it and how much you use alters its effectiveness, and the three common mistakes people make are not applying it soon enough, not reapplying it throughout the day and using too little. It takes 15-30 minutes for sunscreen to reach full efficacy, so don't wait to apply it until you are exposed. Apply once and forget it? Think again. The average lifespan of sunscreen is also only about two hours, so you'll need to reapply throughout the day. Higher SPF? It doesn't matter. According to the American Academy of Dermatology, higher SPFs last the same amount of time as low-number SPFs and should be reapplied every two hours as well. How much should you use? Dermatologists recommend one ounce of sunscreen to cover exposed areas, or a nickel-sized amount for the face. 
Sweat or Got Wet? Start Over
Sweating or exposure to water diminishes sunscreen's blocking power, and so may physical contact like rubbing or drying off with a towel. Particularly in areas of the face that may sweat more, such as the nose and the forehead, it is important to keep reapplying sunscreen, even if you are wearing a protective hat. According to the Skin Cancer Foundation, regardless of claims, waterproof or sweat-proof sunscreens should be reapplied after water exposure or toweling off to ensure coverage. 
If used properly, sunscreen can become one of the greatest tools in your total rosacea care. Choose the proper formulation, apply early and often and use other
sun protective precautions
like wide-brim hats and sunglasses and try to minimize your exposure. Keep in mind that light can bounce back from reflective surfaces like sand or concrete, so use sunscreen even if you are shaded from above. 
For more information and tips on sunscreen use, visit the American Academy of Dermatology's
Sunscreen FAQs
.