Sponsored post
The following announcement was issued by Galderma Laboratories, L.P.:
Leading rosacea experts join forces for inaugural Global Rosacea Awareness Month to help drive awareness and extend support for the 40 million people affected by rosacea worldwide
Global Rosacea Tweetathon set to bring the realities of living with rosacea under the spotlight #ChatRosacea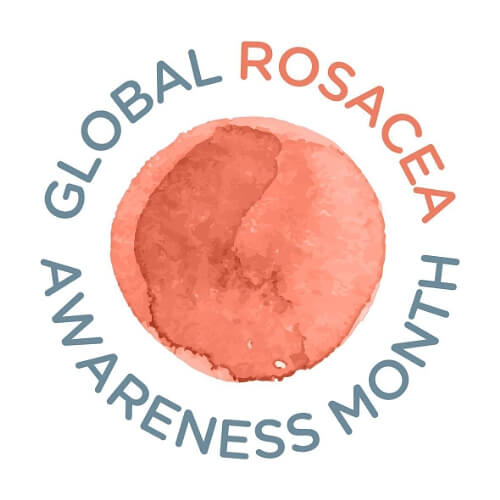 This month leading rosacea experts, alongside the National Rosacea Society (NRS), are joining forces for the world's first Global Rosacea Coalition to drive greater awareness and support for the millions of people with rosacea. As part of this effort, April has been designated Global Rosacea Awareness Month, to connect the many dedicated organizations and individuals committed to improving understanding of rosacea worldwide. The aim of the Coalition and Global Rosacea Awareness Month is to highlight the personal impact of the condition, including the psychological aspects of living with rosacea, and to encourage sufferers to better recognize the symptoms and have the confidence to seek professional help.
"For more than 20 years, our Rosacea Awareness Month each April has made significant progress in the United States toward improving the lives of the untold millions who suffer from this common, often life-disruptive disorder," said Samuel Huff, executive director of the National Rosacea Society. "We are pleased to join this important effort to spread awareness and understanding of rosacea throughout the world."
For almost half of the estimated 40 million rosacea sufferers worldwide who remain unaware that they have a medical condition, finding accurate information and access to healthcare professionals are two critical steps to receiving appropriate care.
According to results of a new national survey conducted in partnership between Galderma Laboratories, L.P. and the National Rosacea Society, there is a need for greater consumer education about this complex disease – particularly its triggers and physical hallmarks. While 62 percent of people with the condition feel they "know enough" about treatment, many confuse rosacea with acne (49 percent believed they had acne prior to diagnosis). Additionally, patients are unaware that rosacea can also be triggered by common factors such as humidity (68 percent), exercise (62 percent) and the microscopic Demodex mites that live in everyone's skin (86 percent). Moreover, due to the condition's visible facial symptoms, many patients struggle with emotional impacts, such as feeling unattractive (50 percent), embarrassed (42 percent) and less confident (30 percent).
Global Rosacea Awareness Month activities, spearheaded by the Global Rosacea Coalition, culminate in the world's first ever Global Rosacea Tweetathon (#ChatRosacea) on Monday, April 27th. Coalition experts, including doctors, sufferers and bloggers, will take part in a Twitter discussion over multiple time zones covering core rosacea topics from diagnosis and the impact of living with rosacea to managing symptoms. The conversation begins in Europe and Australia before moving to Latin America and then to the U.S. and Canada. For further details and to join the conversation please go to: http://twubs.com/ChatRosacea -- please note no medical treatments or advice will be discussed.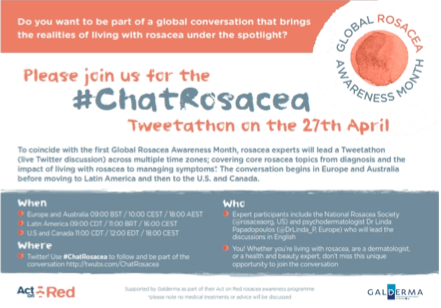 U.S. dermatologist, coalition member and Galderma consultant Dr. Ava Shamban commented: "One of the biggest challenges with rosacea is that almost 50 percent of patients mistake it for acne prior to being diagnosed by a dermatologist and are inappropriately treated with acne medications that can exacerbate and flare the condition. Patients who suffer from rosacea require treatment specific to their symptoms of redness, bumps and inflammation. A Global Rosacea Awareness Month and Coalition to support the cause as well as opening up the discussion surrounding rosacea to a broader audience during the Tweetathon will help patients better understand their condition and will give them the support and information that they need."
Please sign up to the Thunderclap page to share a message of support for Global Rosacea Awareness Month with your friends and followers during April at http://bit.ly/1NuNA9c.
Global Rosacea Awareness Month and the Global Rosacea Coalition are supported by Galderma as part of their Act on Red rosacea awareness program. For more information please visit www.actonred.com.