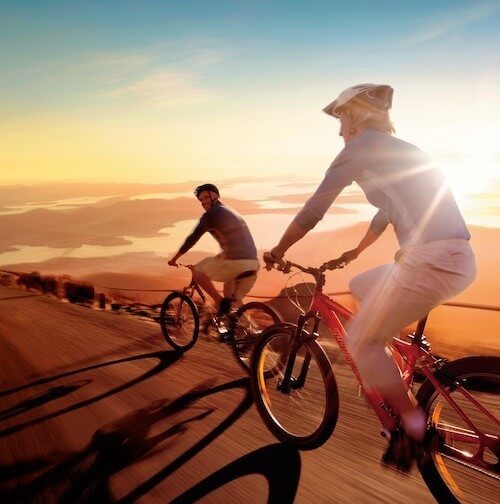 Many factors can affect rosacea, and managing it is a daily process.
As you take advantage of what summer has to offer, help stay free of rosacea symptoms by preparing yourself with our "Rosacea Summertime Survival Toolkit."
Outdoors
If you've struggled with rosacea for a long time, exposure to sun might be your biggest enemy. That's why it's so important to wear sunscreen. Choose a gentle formulation with an SPF of 15 or higher, and use it every day.
While you can't entirely avoid being in the sun, keep it from directly hitting your face by staying in the shade or wearing a wide brimmed hat. 
Summer days can also bring wind, especially if you spend your weekends boating or on a beach. (Lucky you!) Protect your face by carrying a large scarf that you can use to shield against stinging winds.
Indoors
The indoors can be just as threatening as the outside if not well cooled and ventilated. Putting ice chips in your mouth, misting your face with a spray bottle filled with water or draping a cold, wet towel around your neck can help avoid flushing and overheating both indoors and out.
Social Events
Summertime is BBQ time, but be careful if playing grillmaster next to a hot flame, which can risk triggering a flare-up. Consider smoking instead of grilling -- the heat produced by grill coals can be as high as 400 degrees, whereas smoking cooks meat at lower temperatures ranging from 250 to 300 degrees. See our

grilling tips

for more ideas.
Summer cookouts often mean spending hours lounging in the sun and imbibing -- two factors that can be detrimental to your rosacea. You don't have to be a teetotaller, but switch up alcoholic drinks with refreshing

fruit infused water

to guard against alcohol related flare-ups. 
Ladies can keep a travel bag of makeup for touch ups during hot, sweaty days to cover up any visible redness.
Exercise
Intense workouts, like jogging outside, marathons, bike riding and hiking can cause the body to overheat. Combining that with the summer heat may set off fireworks in your skin. Try moderate approaches, and opt for early morning or late evening when it's cooler. These

exercise alternatives

may also help you enjoy an active lifestyle without causing exercise induced flare-ups.
Vacation
If your vacation plans include flying, don't get stuck in a faraway place without your rosacea medication and skin care products; pack them in your carry-on bag in case your checked luggage is lost or delayed.
Vacation means relaxation, but that doesn't mean you should also relax on your medication and skin care routine. If you have established a daily skin-care routine that appears to be working, don't stray while you are away and maintain it while on vacation. 
Hot spices and certain foods are common rosacea triggers, so don't be afraid to inquire about ingredients when dining out if you are away from home. Keep a

diary

of what you eat so you can rule out any new triggers.
Plan sightseeing treks and other vacation adventures during the cooler morning or late afternoon hours, especially if you are in a tropical climate.