Red-Hot Tips for Grilling
Posted: 06/17/2013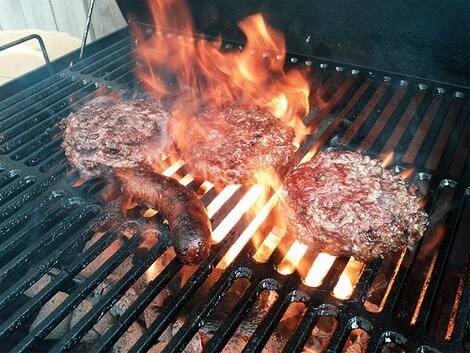 Summer is here and the time is right for a barbecue! But be careful -- heat is a common trigger for rosacea flare-ups, and the hot sun and heat of the grill could be a double whammy for rosacea sufferers. Here are some tips on avoiding a red face with your red hots.
• Minimize exposure to the grill. If possible, hand over cooking duties to someone else; otherwise, spend as little time as possible working over the hot grill. Use a long handled spatula and tongs so you can stand farther back from the heat.
• Marinated meats on the grill are popular, but sometimes include ingredients that can affect some rosacea sufferers. Try seasoning meats with mild spices or by adding hickory or mesquite wood chips to your fire.
• To avoid flushing and overheating, chew on ice chips; cool your face with a spray bottle filled with water; or drape a cold, wet towel around your neck.
• Wear a broad-brimmed hat to shade yourself from the sun.
• Be sure to wear sunscreen. Look for non-chemical sunscreens that contain zinc or titanium dioxide and deliver UVA/UVB protection with an SPF of 15 or higher. A formula designed for sensitive skin can help reduce the possibility of irritation.
• Make sure you use rosacea medication prescribed by your doctor.
Contact Us
Phone:

1-888-NO-BLUSH

Email:
National Rosacea Society
196 James St.
Barrington, IL 60010
Our Mission
The National Rosacea Society is a 501(c)(3) nonprofit organization whose mission is to improve the lives of people with rosacea by raising awareness, providing public health information and supporting medical research on this widespread but little-known disorder. The information the Society provides should not be considered medical advice, nor is it intended to replace
consultation with a qualified physician. The Society does not evaluate, endorse or recommend any particular medications, products, equipment or treatments. Rosacea may vary substantially from one patient to another, and treatment must be tailored by a physician for each individual case. For more information, visit About Us.