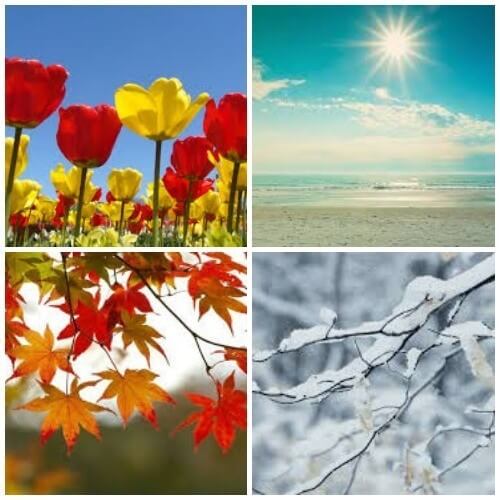 While each new season brings its own delights, from spring's blooming flowers to autumn's falling leaves, the change in weather can also bring challenges to rosacea patients, according to a new National Rosacea Society (NRS) patient survey.
Nearly 90 percent of the 852 survey respondents said their rosacea is affected by the change in seasons, and more than 58 percent said their symptoms are at their worst during the summer. 
Winter was cited as the worst season by 29 percent of the survey takers, but among those who live in the northern states where the temperature and wind can be biting, 35 percent said that winter was the worst. Spring, which can bring unpredictable weather across the country, was named as the worst season by 11 percent of the rosacea sufferers, but only 2 percent said fall affected them the most. 
"The sun and heat are such common rosacea triggers that it is not surprising many rosacea patients find their condition is aggravated during the summer months," said Dr. Joseph Bikowski, director of Bikowski Skincare Center in Sewickley, Pa.  "Taking steps such as using a misting fan or shielding the face with a hat when outdoors may help combat some effects of the summer season, and, of course, daily sunscreen usage is recommended for rosacea patients, even if they will be outdoors for only a short period of time."
Those taking the recent NRS survey report that they do make lifestyle adjustments to reduce the likelihood of a flare-up. Sixty-one percent reported that they make the most adjustments during summer, while 27 percent they make the most changes during winter. Only 10 percent reported making the most accommodations during spring and 2 percent in fall.
When asked what types of seasonal lifestyle modifications they make to reduce the likelihood of a flare-up, 56 percent said they stay indoors more often, a move that could reduce exposure to either the summer sun or the winter chill. Fifty-three percent reported that they increase sunscreen usage, while 43 percent noted that they wear a wide-brimmed hat; 42 percent said they avoid or block the wind; 39 percent increase air-conditioning usage; and 36 percent cover their face when outdoors.
Regardless of which season wreaks the most havoc on their condition, 75 percent of the survey respondents said medication and lifestyle modifications have helped to reduce their rosacea signs and symptoms.
"Being aware of which seasonal triggers affect your individual case is the first step for any rosacea patient," Dr. Bikowski said.  "If your best efforts to avoid those triggers are not enough, you may need to seek guidance from your dermatologist."
The NRS also offers a Rosacea Diary to help rosacea patients track environmental and lifestyle factors that trigger flare-ups in their individual cases. 
Take part in our next patient survey, Rosacea and Flare-ups, by clicking here.