Spring Rosacea Review is Now Available Online
Posted: 05/14/2018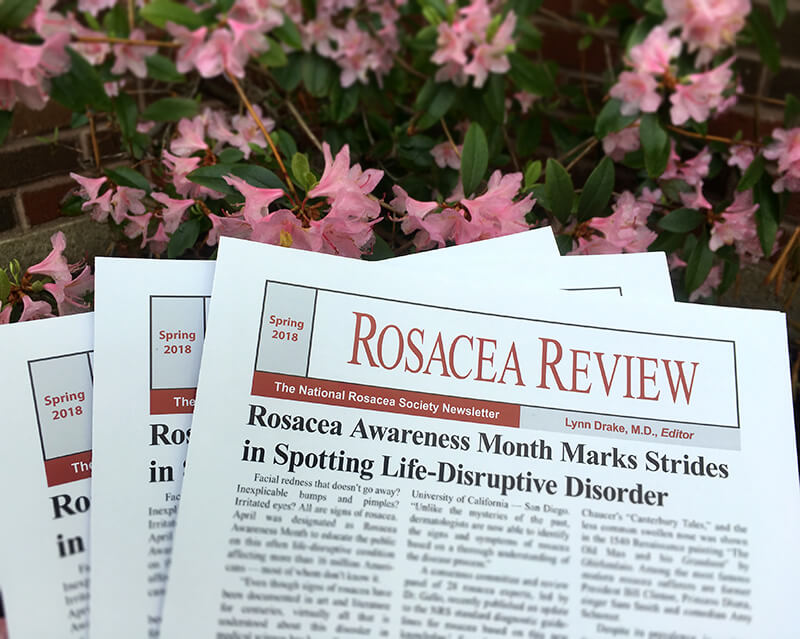 The latest issue of Rosacea Review is available online. In our spring issue, learn about the National Rosacea Society's celebration of Rosacea Awareness Month in April, and read a summary of a recently published NRS-supported study tracking the facial microbiome of twins with rosacea. Readers can also find tips for easing the eye symptoms associated with rosacea and the results of our survey on dietary triggers.
Read coverage of the Annual American Academy of Dermatology annual meeting, including summaries of recent rosacea research and treatment options and a dermatologist's reflections on a long career treating rosacea.
Also find information on the new standard classification and pathophysiology of rosacea, which was published late last year, and if you haven't yet, please take our survey on doctor-patient communication.
Have you considered becoming a member of the NRS, or renewing your membership? Help win the fight against rosacea by renewing or starting your membership here. Your tax-deductible donation will be used to support the Society's important research grants program.
Contact Us
Phone:

1-888-NO-BLUSH

Email:
National Rosacea Society
196 James St.
Barrington, IL 60010
Our Mission
The National Rosacea Society is a 501(c)(3) nonprofit organization whose mission is to improve the lives of people with rosacea by raising awareness, providing public health information and supporting medical research on this widespread but little-known disorder. The information the Society provides should not be considered medical advice, nor is it intended to replace
consultation with a qualified physician. The Society does not evaluate, endorse or recommend any particular medications, products, equipment or treatments. Rosacea may vary substantially from one patient to another, and treatment must be tailored by a physician for each individual case. For more information, visit About Us.