Latest Rosacea Review Now Online
Posted: 11/25/2013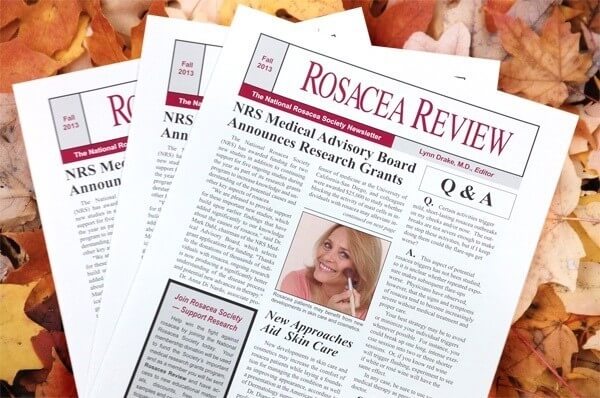 The latest issue of Rosacea Review is now online, featuring new approaches in skin care and makeup that can help in the management and appearance of rosacea, as well as the announcement of newly funded research grants.
The results of the NRS survey on the emotional toll of rosacea are in, revealing that the redness of rosacea alone can lead to negative emotions. And while rosacea may always be an ongoing journey, one rosacea patient shares her success story about finally getting her condition under control by adopting a more relaxed lifestyle. Other features include new data on a possible link between rosacea and excessive Vitamin D, fall flare-up prevention tips and Q&A's.
Read the full online issue here.
If you are an NRS member and haven't donated this year, don't miss out on your annual membership renewal to continue receiving Rosacea Review by mail and access to other important member benefits.
If you are not an NRS member and would like to receive a subscription to Rosacea Review as well as help in the fight against rosacea, join today. Your membership donation is used to fund the Society's medical research grants program and includes a subscription to Rosacea Review as well as access to mailings of new educational materials, free product samples, discounts and opportunities to participate in research.
Contact Us
Phone:

1-888-NO-BLUSH

Email:
National Rosacea Society
196 James St.
Barrington, IL 60010
Our Mission
The National Rosacea Society is a 501(c)(3) nonprofit organization whose mission is to improve the lives of people with rosacea by raising awareness, providing public health information and supporting medical research on this widespread but little-known disorder. The information the Society provides should not be considered medical advice, nor is it intended to replace
consultation with a qualified physician. The Society does not evaluate, endorse or recommend any particular medications, products, equipment or treatments. Rosacea may vary substantially from one patient to another, and treatment must be tailored by a physician for each individual case. For more information, visit About Us.