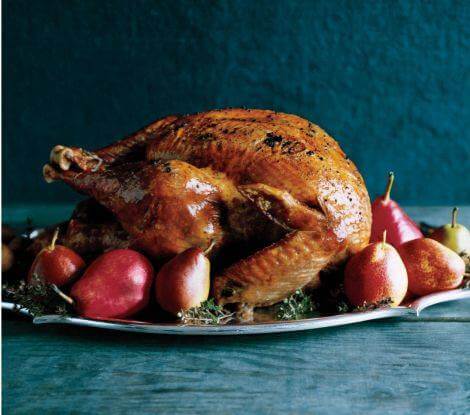 Thanksgiving is a time of sharing with friends and family -- it should not be a time of worrying about rosacea flare-ups. Here are a few tips and reminders for managing your rosacea during the busy holiday week:
Avoid food triggers
The Thanksgiving spread is perhaps the best part of the holiday. Rich casseroles, delicious stuffings and various pies are readily available for the taking, but so are many foods that may trigger rosacea flare-ups, such as red wine, spicy foods and tomatoes, to name a few. If you know your food triggers, keep them in mind while you celebrate -- but focus on what you can enjoy rather than what you should avoid. If you haven't identified your triggers yet, our Rosacea Diary is a useful tool to help you start identifying certain foods that may affect your individual condition.
Stay Cool in the Kitchen
"If you can't take the heat get out the kitchen," doesn't have to be the theme this Thanksgiving, but spending all day in a hot kitchen could lead to overheating and flushing. Hold the red at bay by avoiding steaming pots and overexposure to hot stoves and ovens. Keep the kitchen well ventilated, and take periodic breaks in a cooler room if the temperature grows too hot. Have a glass of ice water handy in the kitchen to cool off.
Manage Stress
Family gatherings, holiday travel -- these can easily heighten stress levels and, consequently, rosacea flare-ups. Effective stress management techniques, however, can help ward off the negative effects. If holidays are stressful to you, have a game plan for dealing with the situations that may be especially challenging. Maintaining a positive outlook by focusing on what is important can also be helpful.
Maintain Your Rosacea Therapy
With the rush and demands of Thanksgiving planning, it can be tempting to skip out on your rosacea therapy and daily skincare regimen, but doing so may create an environment for disaster. In addition to medical therapy, a consistent, gentle skin care regimen can make difference in managing rosacea and improving the look of your skin.
If you experience a flare-up this Thanksgiving holiday, note what seemed to trigger it, and think about what you could do differently to help guard against future holiday-related flare-ups. After all, the holidays are just beginning!
Image credit: Gourmet Magazine