What Is Rosacea?
Rosacea (pronounced "roh-ZAY-sha") is a common but poorly understood disorder of the facial skin that is estimated to affect more than 16 million Americans.
It is a chronic but treatable condition that primarily affects the central face, and is often characterized by flare-ups and remissions. Although rosacea may develop in many ways and at any age, patient surveys indicate that it typically begins any time after age 30 as flushing or redness on the cheeks, nose, chin or forehead that may come and go.
Studies have shown that over time the redness tends to become ruddier and more persistent, and visible blood vessels may appear. Left untreated, inflammatory bumps and pimples often develop, and in severe cases -- particularly in men -- the nose may grow swollen and bumpy from excess tissue. In as many as 50 percent of patients the eyes are also affected, feeling irritated and appearing watery or bloodshot.
Although rosacea can affect all segments of the population and all skin types, individuals with fair skin who tend to flush or blush easily are believed to be at greatest risk. The disorder is more frequently diagnosed in women, but tends to be more severe in men. There is also evidence that rosacea may tend to run in families, and may be especially prevalent in people of northern or eastern European descent.
In surveys by the National Rosacea Society (NRS), nearly 90 percent of rosacea patients said this condition had lowered their self-confidence and self-esteem, and 41 percent reported it had caused them to avoid public contact or cancel social engagements. Among those with severe rosacea, nearly 88 percent said the disorder had adversely affected their professional interactions, and nearly 51 percent said they had even missed work because of their condition. The good news is that well over 70 percent reported medical treatment had improved their emotional and social well-being.
While the cause of rosacea is unknown and there is no cure, knowledge of its signs and symptoms has advanced to where they can be effectively controlled with medical therapy and lifestyle changes. Individuals who suspect they may have rosacea are urged to see a dermatologist or other qualified physician for diagnosis and appropriate treatment -- before the disorder becomes increasingly severe and intrusive on daily life.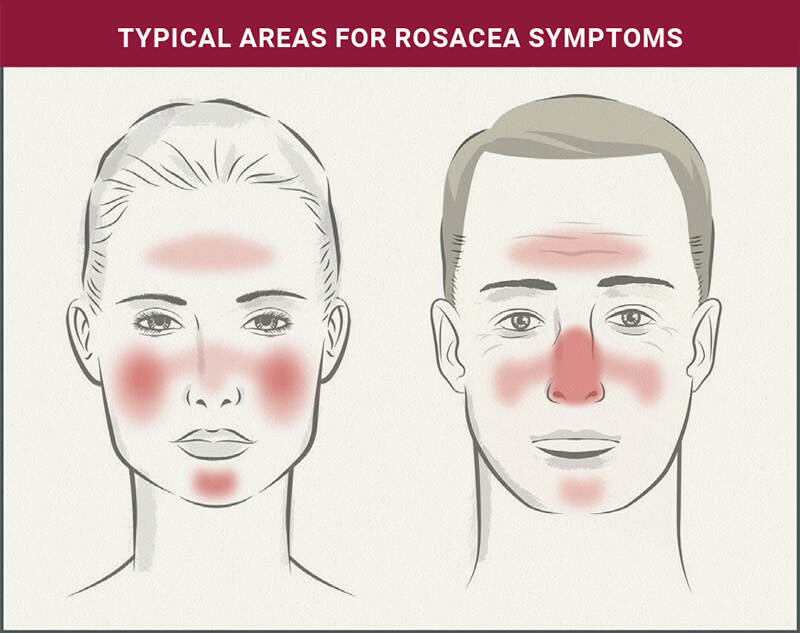 Surveys indicate women are more likely to experience signs and symptoms on the cheeks and chin, while men are more likely to have redness and swelling of the nose.
Download a free PDF of this booklet.