Sponsored post
The following announcement is sponsored by Galderma Laboratories, L.P.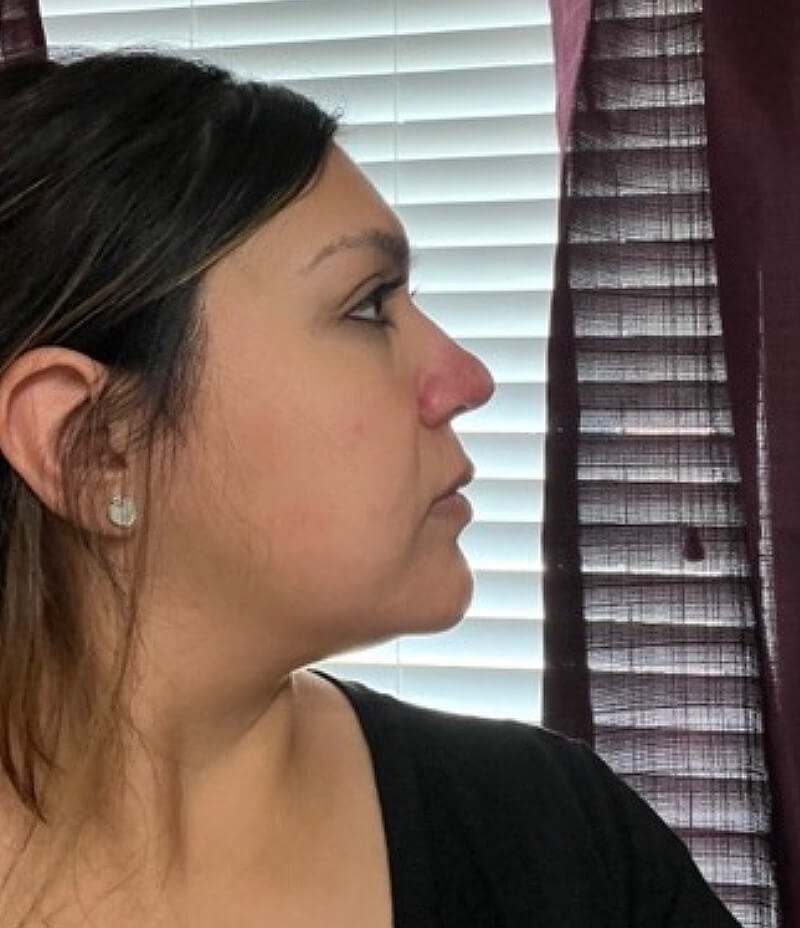 Bumps. Blemishes. Redness. Pain. Daniella Arroyo suddenly started experiencing papulopustular rosacea following the birth of her daughter about 15 years ago.
While inflammatory acne and rosacea are both common in Latin Americans, rosacea is usually associated with lighter skin tones and missed or misdiagnosed in those with darker skin.1 While Daniella was lucky to have received an accurate diagnosis right from the start, she still struggled to manage the condition.
"Papulopustular rosacea has had an impact on my life, especially my confidence at work and being in public. At times when I was flared, I would rather not be around people because I felt like they were distracted by my face," Daniella frankly admitted. As someone who loves spending time with her family, hiking and being outdoors, she became frustrated when she had to modify her lifestyle to avoid triggering flares.
Rosacea is known to be a challenging condition to manage. 55% of people with rosacea and a high disease burden reported a willingness to give up one year or more of their life to cure their symptoms.2
For the first five years, Daniella tried to manage her papulopustular rosacea through lifestyle changes, but it wasn't enough so she turned to medical treatment. Despite trying numerous over-the-counter and prescription medicines over the course of a decade, she still struggled to gain control over the condition.
"It was very frustrating being treated with different topicals, such as prescriptions of ivermectin or clindamycin/benzoyl peroxide, sulfur washes and several different oral antibiotics that only worked for a couple of weeks," Daniella shared.
Unfortunately, Daniella isn't alone. More than 82% of people feel their rosacea is uncontrolled, and less than 50% are satisfied with their current prescription treatments, which can lead to overuse or misuse of these products and can trigger or worsen the condition.3-5
Last year, Daniella became one of the first people with papulopustular rosacea to try EPSOLAY (benzoyl peroxide) Cream, 5%. Before now, benzoyl peroxide (BPO) has never been indicated to treat papulopustular rosacea because it can be irritating for sensitive skin. However, EPSOLAY is not the BPO you know — the patented microencapsulation technology gradually releases BPO onto the skin to help overcome tolerability issues.
To Daniella's surprise, after approximately two weeks of treatment, she saw her bumps and blemishes improved. She's now been on treatment for six months and reports: "Since being on EPSOLAY I feel like the flares have shortened. A flare that would have lasted a couple of weeks lasts one to three days. I usually have sensitive skin, but this has been very light weight on my face. I will use it long term." (Actual patient, individual results may vary)
Daniella before EPSOLAY treatment | Daniella after EPSOLAY treatment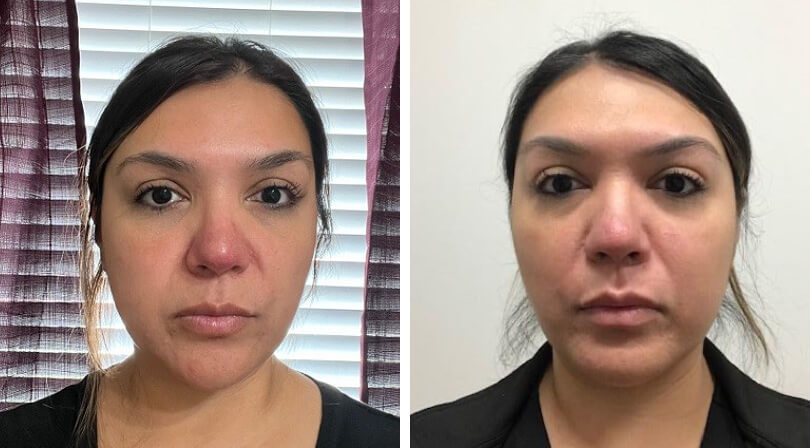 A month's supply of EPSOLAY may cost as little as $20 for eligible commercial insured covered patients or $60 without insurance* with the Galderma CAREConnect savings card at participating pharmacies.
Daniella's struggle with rosacea led her to become a dermatology medical assistant four years ago: "I was inspired to work in dermatology due to my connection with patients and understanding their feelings of frustration in dealing with the chronic condition of rosacea. Just being able to let others know that it can get better makes me feel good as well."
* Galderma CAREConnect Patient Savings Program is only available for commercially insured or uninsured patients at participating pharmacies. Patients who are enrolled in a state or federally government-run or government-sponsored healthcare plan with a pharmacy benefit are not eligible to use the Galderma CareConnect Patient Savings Card. Any claim under the Program must be submitted by participating pharmacies to one of the Administrators of the Program.
IMPORTANT SAFETY INFORMATION
Indication: EPSOLAY® (benzoyl peroxide) Cream, 5% is indicated for the treatment of inflammatory lesions of rosacea in adults. Adverse Events: The most common adverse reactions (incidence ≥ 1%) in patients treated with EPSOLAY Cream were pain, erythema (redness), pruritus (itching) and edema (swelling), all at the application site. Warnings/Precautions: Patients using EPSOLAY Cream may experience hypersensitivity reactions, including anaphylaxis (acute allergic reaction), angioedema (rapid swelling), and urticaria (hives). If serious hypersensitivity reaction occurs, discontinue use of EPSOLAY Cream immediately and seek medical attention/initiate appropriate therapy. Skin Irritation/contact dermatitis may be experienced, including erythema (redness), scaling, dryness, and stinging/burning. Irritation and contact dermatitis may occur. Use a moisturizer and discontinue EPSOLAY Cream if symptoms do not improve. Avoid application to cuts, abrasions, eczematous, or sunburned skin. EPSOLAY Cream may increase photosensitivity, sensitivity to ultraviolet light. Minimize or avoid exposure to natural or artificial sunlight (tanning beds or UVA/B treatment). Use sunscreen or protective clothing when sun exposure cannot be avoided. Discontinue use of EPSOLAY Cream at the first evidence of sunburn.
You are encouraged to report negative side effects of prescription drugs to the FDA. Visit www.fda.gov/medwatch or call 1-800-FDA-1088.
References
1. Florez-White M. Acne and Rosacea: Special Considerations in the Treatment of Patients With Latin American Ancestry. J Drugs Dermatol. 2019;18(3): Supplement 124.
2. Tan J, Steinhoff M, Bewley A, Gieler U. Beyond the visible: rosacea (2018). https://www.oracea.com/sites/default/files/2021-12/rosacea-beyond-the-visible-report.pdf-min_0.pdf. Accessed December 7, 2022.
3. Galderma Laboratories, L.P. Galderma global study reveals true burden of rosacea and encourages healthcare professionals to look 'beyond the visible'. June 2018. Available at: https://www.galderma.com/news/galderma-global-study-reveals-true-burden-rosacea-and-encourages-healthcare-professionals-look. Accessed December 7, 2022.
4. Del Rosso JQ, Tanghetti EA, Baldwin HE, Rodriguez DA, Ferrusi IL. The burden of illness of erythematotelangiectatic rosacea and papulopustular rosacea: findings from a web-based survey. J Clin Aesthet Dermatol. 2017;10(6):17-31.
5. National Rosacea Society. Rosacea triggers survey. Available at: https://www.rosacea.org/patients/rosacea-triggers/rosacea-triggers-survey. Accessed December 7, 2022.