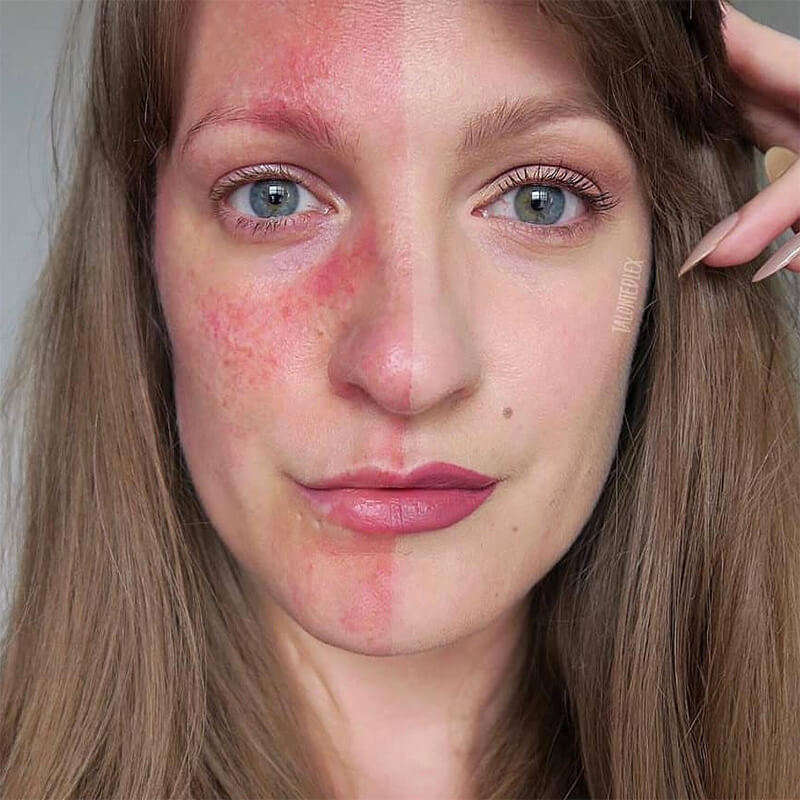 Makeup and skincare products may sometimes seem intimidating or downright risky for someone dealing with sensitive skin, but the ability to safely disguise rosacea's symptoms can be an empowering weapon in the arsenal of any rosacea patient.
"For me it's armor and strength, as well as a fun and creative outlet," explained makeup blogger and British Skin Foundation Ambassador Lex Gillies. "Applying makeup enables me to leave the house and go about my day without having to answer questions about my skin or deal with curious looks." Gillies' blog, Talonted Lex, includes beauty and skincare product reviews with sensitive rosacea skin in mind.
Here are a few tips for those hoping to use makeup to reduce the outward effects of rosacea on their appearance and maintain a healthy skincare routine.
Sample before you purchase. Before selecting a new product and committing to a new purchase, consider visiting a department store or beauty supply shop for a sample. Be sure to try out products on a non-facial skin surface like the neck, wrist or forearm. Avoid anything that causes burning or irritation. Samples may also be available by contacting the company that produces it.
Try combination products. Since whatever comes into contact with your skin often has the potential to cause irritation or a flare-up, the safest thing you can do is reduce the number of products you use. Combination products are a great way to do this. For example, instead of using concealer or foundation, try a tinted moisturizer. Products that contain a mineral based sunscreen are another great way to reduce the overall number of products you use.
Protect your skin with sunscreen. Many makeup products and moisturizers come with sunscreen, often in a mineral form such as zinc oxide or titanium dioxide. When selecting a new product, make sure the sunscreen component delivers UVA/UVB protection with an SPF of 30 or higher. In addition to moisturizer, common products containing sunscreen include concealer, foundation, blush and lipstick.
Stick to a routine. When trying new makeup products, be sure to maintain your regular skin care routine. Try out one new product at a time to observe the effect it has on your skin before using it on a regular basis.
Find more makeup tips in our skincare and cosmetics page in the Patients section. For product reviews and rosacea-oriented makeup tutorials, check out Talonted Lex.
Photo courtesy of Lex Gillies on Instagram.