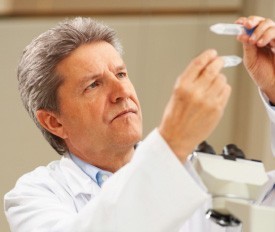 Editor's Note: It's important to note that these findings only suggest a potential association. To determine any cause-and-effect relationship, further study is required.
A recent study in Denmark found rosacea patients had an increased risk of hepatic cancer (liver cancer), non-melanoma skin cancer and breast cancer, but a decreased risk of lung cancer. 
The study published in Cancer Epidemiology was conducted by Dr. Alexander Egeberg and a research team from the University of Copenhagen in Denmark.1 They are responsible for similar recent comorbidity studies connecting rosacea to glioma and gastrointestinal diseases among other diseases and conditions. 
The new study investigated rosacea patients' likelihood to be diagnosed with any of 13 forms of cancer. Using data from the Danish National Patient Registry, the study analyzed five years of medical history for 49,475 patients with rosacea and 4,312,213 control subjects from the general population. The rate of new cancer diagnosis was compared to the overall prevalence for each type of cancer in the registry.
Among the rosacea patients, there was no increased risk for malignant melanoma, ovarian, endometrial, cervical, esophageal, kidney, pancreatic or thyroid cancer compared to the general population. However, rosacea patients had a 42 percent increased risk of hepatic cancer, a 36 percent increased risk of nonmelanoma skin cancer, and a 25 percent increased risk of breast cancer. Additionally, the study found rosacea patients were 22 percent less likely to be diagnosed with lung cancer than the general population.
The research team pointed out that the likelihood for rosacea patients being diagnosed with any of the types of cancer studied remains low and comparable to the likelihood for the general population. Additionally, they noted that the research on rosacea and cancer risk has shown conflicting results, and further study is needed to confirm any connection.
The investigators proposed that there might be a biological reason for rosacea patients' elevated risk for nonmelanoma skin cancer, and speculated that patients with rosacea may have an impaired skin barrier and a history of high sun exposure. 
In a previous study, Dr. Egeberg and his research team found evidence suggesting that rosacea is associated with an increased risk of death from liver disease and alcoholic cirrhosis of the liver.2 In this study, the investigators cited data suggesting rosacea patients may consume more alcohol than the general population, and speculated that increased alcohol consumption could explain the associations found between rosacea and both hepatic and breast cancers, as there is considerable research pointing to a causal association between alcohol and the diseases. 
On the other hand, studies on the relationship between smoking and rosacea have been inconclusive with some pointing to a high prevalence of rosacea patients being smokers and others pointing to the opposite. Dr. Egeberg's team did not control for smoking behavior in their study, however they noted that the rosacea group averaged a higher socioeconomic level than the general population. 
The researchers noted several limitations to the study: the population studied is predominantly caucasian and therefore the results may not be applied to other ethnic groups; the researchers were unable to distinguish between subtypes of rosacea or skin cancer; overall the study was observational in nature; and more investigation is necessary to determine if any causal relationship exists between rosacea and each type of cancer.
References
1. Egeberg A, Fowler JF Jr, Gislason GH, Thyssen JP. Rosacea and risk of cancer in Denmark. Cancer Epidemiol. 2017 Jan 26;47:76-80. doi: 10.1016/j.canep.2017.01.006. [Epub ahead of print]
2. Egeberg A, Fowler JF Jr, Gislason GH, Thyssen JP. Nationwide Assessment of Cause-Specific Mortality in Patients with Rosacea: A Cohort Study in Denmark. Am J Clin Dermatol. 2016 Dec;17(6):673-679