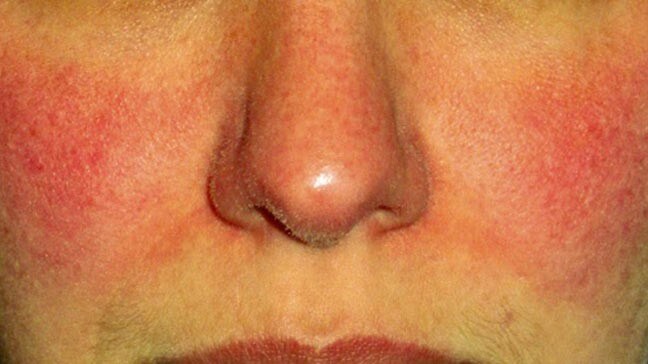 Medical research continues to suggest that rosacea may have deeper connections with general health, as a recent study at Johns Hopkins University identified associations between this highly prevalent skin disorder and a wide range of chronic systemic diseases, from allergies to cardiovascular problems to cancer.
In the new study, 65 patients diagnosed with rosacea were matched with 65 people without the disorder, who served as the control group. The mean age of the study participants was 51, while 66 percent were female and 95 percent were Caucasian. Of the patients with rosacea, 58 percent of the cases were mild and 42 percent were moderate to severe.
The participants were given a questionnaire that collected detailed medical history, any current health issues, demographic information and lifestyle factors such as smoking habits, alcohol consumption, caffeine intake and sun exposure. Medical conditions were self-reported and confirmed through medical records and medication use.
The researchers analyzed the data from the questionnaires and found that patients with rosacea were more likely than those without the disorder to suffer from airborne or food allergies, respiratory diseases such as asthma, gastroesophageal reflux disease (GERD) and other gastrointestinal disorders, hypertension (high blood pressure), metabolic disorders such as diabetes, urogenital diseases such as urinary tract infection, and female hormone imbalance. Furthermore, moderate to severe rosacea was more strongly associated with hyperlipidemia (high cholesterol), hypertension, metabolic disorders, cardiovascular disease and GERD compared with mild rosacea.
Interestingly, skin cancer was found more common in patients with mild rosacea than in those whose condition was moderate or severe. The investigators speculated that patients with more severe symptoms may visit their dermatologists more often, leading to earlier detection and treatment of skin cancer and its precursors.
"Although our study establishes associations between rosacea and chronic systemic diseases, the pathophysiological connections are complex and remain unclear," the researchers noted in their report, published in the Journal of the American Academy of Dermatology. "It is likely that these connections involve mechanisms that underlie chronic inflammatory conditions, including inflammatory cytokines, and metabolic, immune, and endocrine changes." They pointed out that the body's microbiome (community of microorganisms) may also be a factor in the link between rosacea and other diseases of barrier tissues, including the skin and respiratory, gastrointestinal and urinary tracts.
The researchers cautioned that the study looked at a relatively small number of cases and relied on self-reporting of medical conditions, and further research is needed to confirm the findings and determine the nature of the connections.
Reference:
Rainer BM, Fischer AH, Luz Felipe da Silva D, Kang S, Chien AL. Rosacea is associated with chronic systemic diseases in a skin severity-dependent manner: results of a case-control study. J Am Acad Dermatol 2015;73(4):604-8.