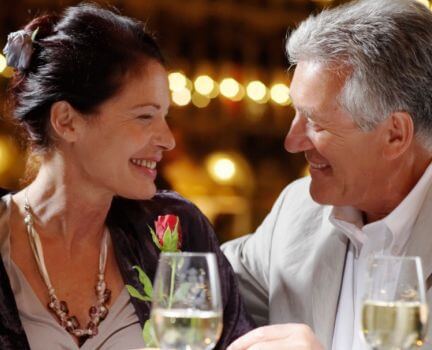 The date is set, reservations have been made and then, unexpectedly, a rosacea flare-up hits. Maybe it was stress at work or the spicy food you had for lunch, but whatever it was, it's now making its way onto your complexion at the wrong time.
Dating these days can be hard for anyone, and it can be particularly challenging when you have rosacea. Will you be judged on your appearance? What if you have a flare-up in the middle of the date? How do you explain unexpected redness or the fact that you have to stay away from triggers such as cold wind or red wine lest you turn red-faced? 
While dating with rosacea can present unique challenges, here are some tips that may help you navigate it more successfully:
Avoid Your Triggers
As much as you can, avoid or minimize your known rosacea triggers before and during the date to prevent a flare-up. Grabbing a drink or a cup of coffee, for example, are popular date ideas but two potential threats for many rosacea patients. Alcohol (particularly red wine) and heated beverages such as coffee are reported by many patients as common rosacea triggers. If these can't be avoided, sip your drink slowly and let a hot beverage cool. 
Get it Out the Way
Consider talking about your rosacea in a casual way, even if it's the first date. Talking about what you consider a flaw can help dispel embarrassment or social unease, and bringing up your condition in the beginning sends a signal of ownership and security. Many people unwittingly hold onto outdated myths about rosacea, so this could also be an opportunity to provide education and awareness. Given that 16 million Americans are estimated to have rosacea, you may even spark a conversation with your date, who might actually share symptoms of rosacea (and not even know they have it!) or might know a friend or family member with the disorder.  
Use Medical Therapy
As always, be sure to use medical therapy for rosacea prescribed by your doctor. Patients have reported that effective medical therapy and resulting improvements in their condition have helped their self-esteem, which can likely have the effect of increasing self-confidence. If you haven't yet visited a dermatologist, consider your dating quest the prompt to do so.
Be Comfortable in Your Own Skin
It's natural for nearly everyone to have aspects of their appearance that bother them, including your date. Especially take comfort that while you may be agonizing about your rosacea, your date may not even be thinking about it. Remember that beauty is far more than just what's on the surface, and lack of self-conciousness and interest in others are attractive qualities.