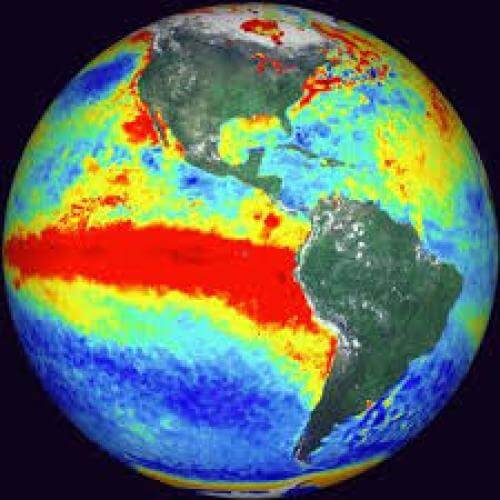 Although the strongest El Niño weather pattern in 50 years is now unfolding across the country, this unusual phenomenon may bring both good news and bad news for many rosacea sufferers.
Medical research has historically found associations between climatic factors and the occurrence of dermatologic diseases, and now a recent study has documented an association between skin conditions and the weather phenomenon known as El Niño. El Niño is caused by the warming of the Pacific Ocean in the southern hemisphere, resulting in temperature shifts and unusual weather patterns across the globe. This usually includes a milder winter in the northern hemisphere, which may be a blessing for patients whose rosacea is affected by cold weather.
To determine the influence of climatic factors such as El Niño and seasonal changes on skin diseases, researchers in Lima, Peru -- a hot spot for El Niño effects -- studied 3,924 hospital patients admitted for various dermatological disorders between the years of 2004 to 2007 during the southern hemisphere's summer season.1
While infectious skin diseases like viral warts were the most common patient diagnosis, results from the observation study found that the weather phenomena was associated with an increase in the prevalence of non-infectious skin disorders, including actinic keratosis (also called solar keratosis) and rosacea. Researchers noted that an increase in temperature from El Niño might also increase the frequency of rosacea flare-ups in the summer. This finding is further supported by other non-related research on the effect of heat on rosacea.
The impact of seasonal changes is no stranger to rosacea sufferers -- nearly 90 percent of 852 respondents to an NRS patient survey said that their rosacea is affected by the change in seasons. Summer heat is the culprit for many, while the stinging wind and biting cold of winter spark other patients' flare-ups.
Although El Niño can lead to more heat next summer, this year's El Niño may have a silver lining for those whose rosacea symptoms are worse in the colder months: a potentially milder winter and spring.
Reference:
1. Gutierrez El, Galarza C, Ramos W, et al. Influence of climatic factors on the medical attentions of dermatologic diseases in a hospital of Lima, Peru. Brazilian Annals of Dermatology. 2010 Jul-Aug;85(4):461-8.