Spring Rosacea Review Now Online
Posted: 05/14/2013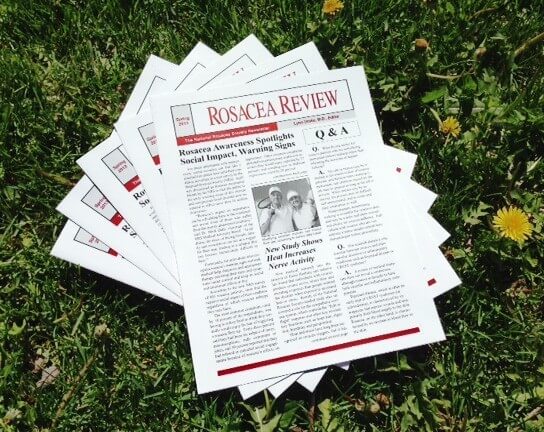 The Spring Rosacea Review is now online. This issue recaps efforts by the National Rosacea Society to spotlight the social impact and warning signs of rosacea during Rosacea Awareness Month, as well as a report on research into the process of facial flushing and redness. Also highlighted are results of a patient survey showing that flare-ups caused by exercise can be controlled by making modifications to your routine, plus a summary of new concepts presented at the AAD annual meeting about Demodex mites and appropriate skin care for rosacea patients.
Other features include Q&As on permanent makeup (tattoos) and whether there is a relationship between rosacea and other vascular disorders, tips for protecting your skin from the sun, a new success story and a new patient survey on the emotional toll of rosacea.
Contact Us
Phone:

1-888-NO-BLUSH

Email:
National Rosacea Society
196 James St.
Barrington, IL 60010
Our Mission
The National Rosacea Society is a 501(c)(3) nonprofit organization whose mission is to improve the lives of people with rosacea by raising awareness, providing public health information and supporting medical research on this widespread but little-known disorder. The information the Society provides should not be considered medical advice, nor is it intended to replace
consultation with a qualified physician. The Society does not evaluate, endorse or recommend any particular medications, products, equipment or treatments. Rosacea may vary substantially from one patient to another, and treatment must be tailored by a physician for each individual case. For more information, visit About Us.