Rosacea.org is Now Mobile Friendly
Posted: 10/03/2016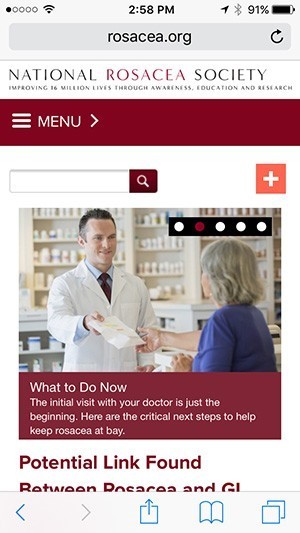 The National Rosacea Society is pleased to announce that rosacea.org, the leading online resource for information about rosacea, is now optimized to work on mobile devices. The new mobile-friendly design changes to match the size and orientation of your smartphone or tablet, making information easier to read on smaller screens. All the information and tools are the same, and the different sections of the site — Information for Patients, Information for Physicians, Research Grants, Weblog, Press Room and About Us — are accessible via the menu link at the top of the page. 
We welcome your feedback on the new mobile-friendly layout and design. Please comment on our Facebook page or tweet at us at @rosaceaorg.
Contact Us
Phone:

1-888-NO-BLUSH

Email:
National Rosacea Society
196 James St.
Barrington, IL 60010
Our Mission
The National Rosacea Society is a 501(c)(3) nonprofit organization whose mission is to improve the lives of people with rosacea by raising awareness, providing public health information and supporting medical research on this widespread but little-known disorder. The information the Society provides should not be considered medical advice, nor is it intended to replace
consultation with a qualified physician. The Society does not evaluate, endorse or recommend any particular medications, products, equipment or treatments. Rosacea may vary substantially from one patient to another, and treatment must be tailored by a physician for each individual case. For more information, visit About Us.