Learn More About Demodex and the Ecology of Your Face
Posted: 12/04/2014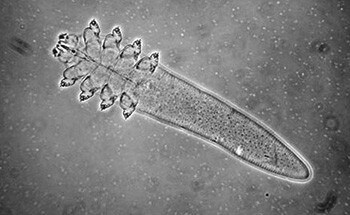 A new page on rosacea.org sheds light on the microscopic skin mite Demodex folliculorum, its role in human skin and its potential relationship with rosacea.
While the surface of the skin may appear to be simple, there is a lot going on at the microscopic level. A diverse community of microorganisms live on our skin and within our body, making up what's known as the "human microbiome." Although some of these organisms may cause disease, others actually help the body fight off illness and infections, while others are just along for the ride.
The Ecology of Your Face: Demodex, Rosacea and You provides an overview of the human microbiome and discusses the current theories on the connection between Demodex and rosacea, as research continues to reveal the role Demodex may play in the development of the disorder.
Contact Us
Phone:

1-888-NO-BLUSH

Email:
National Rosacea Society
196 James St.
Barrington, IL 60010
Our Mission
The National Rosacea Society is a 501(c)(3) nonprofit organization whose mission is to improve the lives of people with rosacea by raising awareness, providing public health information and supporting medical research on this widespread but little-known disorder. The information the Society provides should not be considered medical advice, nor is it intended to replace
consultation with a qualified physician. The Society does not evaluate, endorse or recommend any particular medications, products, equipment or treatments. Rosacea may vary substantially from one patient to another, and treatment must be tailored by a physician for each individual case. For more information, visit About Us.