Help Raise Awareness With These Top FAQs
Posted: 04/07/2014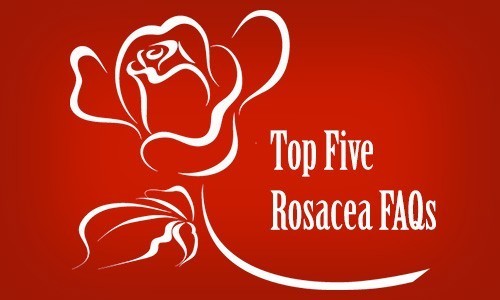 Many people are misinformed or misguided as to what rosacea is. During Rosacea Awareness Month, the following answers to frequently asked questions may help you provide education and correct the many misconceptions about this disorder.
Q. What is rosacea?
A. Rosacea is a chronic disorder of the facial skin that over time may include redness, visible blood vessels, bumps and pimples, or eye irritation. Many people have unclear perceptions of rosacea, ranging from the myth that it results from too much drinking to the belief that it's due to overheating, anger or poor hygiene. Although the exact cause or causes of rosacea are unknown, various theories about the disorder's origin have evolved over the years. Facial blood vessels may dilate too easily, and the increased blood near the skin surface makes the skin appear red and flushed. Various lifestyle and environmental factors -- called triggers -- can increase this redness response. Acne-like bumps may appear, often in the redder area of the central face. This may be due to factors related to blood flow, skin bacteria, microscopic skin mites (Demodex), irritation of follicles, sun damage of the connective tissue under the skin, an abnormal immune or inflammatory response, or psychological factors.
Q. Who gets rosacea?
A. Rosacea can affect anyone, but it is more likely to occur in fair skinned individuals, particularly those of those northern or eastern European ancestry. Many have observed that it typically begins any time after age 30, and women are more likely to experience symptoms on the cheeks and chin while men are more commonly affected on the nose.
Q. Is rosacea contagious?
A. Rosacea is not considered an infectious disease, and there is no evidence that it can be spread by contact with the skin or through inhaling airborne bacteria. The effectiveness of antibiotics against rosacea symptoms is widely believed to be due to their anti-inflammatory effect, rather than their ability to destroy bacteria.
Q. Is rosacea hereditary?
A. Although no scientific research has been performed on rosacea and heredity, nearly 40 percent of rosacea patients surveyed by the NRS said they could name a relative who had similar symptoms, suggesting that there may be a genetic link.
In addition, there are signs that ethnicity is a factor in one's potential to develop rosacea as patient surveys suggesst rosacea is especially likely to develop in individuals of Irish or English descent.
Q. How long does rosacea last?
A. Rosacea is a chronic disorder, rather than a short-term condition, and is often characterized by relapses and remissions. While at present there is no cure for rosacea, its symptoms can usually be controlled with medical therapy and lifestyle modifications. Moreover, studies have shown that rosacea patients who continue therapy for the long term are less likely to experience a recurrence of symptoms.
If you believe you may have rosacea and are not being treated, see a dermatologist for diagnosis and appropriate care. 
For other ways to get involved during the month, visit the Rosacea Awareness Month page.
Contact Us
Phone:

1-888-NO-BLUSH

Email:
National Rosacea Society
196 James St.
Barrington, IL 60010
Our Mission
The National Rosacea Society is a 501(c)(3) nonprofit organization whose mission is to improve the lives of people with rosacea by raising awareness, providing public health information and supporting medical research on this widespread but little-known disorder. The information the Society provides should not be considered medical advice, nor is it intended to replace
consultation with a qualified physician. The Society does not evaluate, endorse or recommend any particular medications, products, equipment or treatments. Rosacea may vary substantially from one patient to another, and treatment must be tailored by a physician for each individual case. For more information, visit About Us.