BARRINGTON, Illinois (September 4, 2013) – Residents of New England appear to suffer the highest incidence of rosacea in the United States, while those in Hawaii may be affected the least, according to a geographic analysis of National Rosacea Society (NRS) membership data.  This conspicuous, red-faced disorder is now estimated to affect more than 16 million Americans.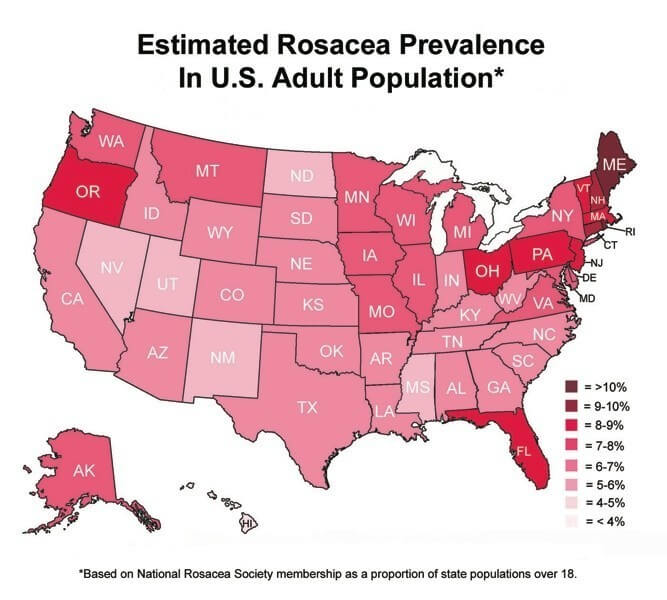 Click here for a high-res version of this map
In the new state-by-state estimates, Maine, Rhode Island, New Hampshire and Connecticut are shown to have the greatest prevalence of rosacea, each registering over 10 percent of their adult populations.  Meanwhile, Hawaii scored the lowest incidence at 2.7 percent, and the prevalence rate was under 5 percent in New Mexico, Mississippi and North Dakota.
"While these figures provide only a rough estimate, they appear to be consistent with what is generally known about the disorder," said Dr. Jonathan Wilkin, a leading authority on rosacea and former director of Dermatologic and Dental Drug Products at the U.S. Food and Drug Administration.  "Rosacea has been found to be very common in the fair-skinned people of England, Ireland and northern Europe, so it's not surprising to see such a high incidence in New England, the industrial Midwest and other areas with large concentrations of these ancestries."
He noted that while some ethnic groups may be more prone to rosacea than others, this is only a relative increase and not absolute.  "No racial or ethnic group is spared from this facial dermatosis and ocular condition," he said.
In an NRS survey of 600 rosacea patients, nearly 52 percent reported that a family member had also suffered from rosacea, and 42 percent indicated they were of Irish, German or English ancestry.
"In addition to genetics, a more temperate climate may also contribute to this prevalence pattern, as changes in temperature are common factors that can exacerbate the condition," Dr. Wilkin said.  He noted that Florida may be an exception because of its large number of retirees from the Northeast.
In order to map the estimated geographic prevalence of rosacea in the United States, the NRS analyzed the zip codes of its 82,720 members to determine their states of residence.  Then, by using the number of NRS members, the 2010 U.S. Census data and the estimated total number of Americans with rosacea, the NRS was able to project an estimated percentage of individuals with rosacea over the age of 18 in each state.
Rosacea typically begins at any time after age 30 as a flushing or redness on the cheeks, nose, chin or forehead that may come and go.  Over time, the redness tends to become ruddier and more persistent, and small blood vessels may appear.  Without treatment, bumps and pimples often develop, and in severe cases the nose may become swollen from excess tissue.  Burning and stinging are common, and in many patients, the eyes are also affected, feeling irritated and appearing watery or bloodshot.
"Fortunately today, effective medical therapy is available that can reverse the effects and prevent the progression of this potentially life-disruptive disorder," Dr. Wilkin said.  Anyone who suspects they may have rosacea is urged see a dermatologist for diagnosis and appropriate care.
About the National Rosacea Society
The National Rosacea Society is the world's largest organization dedicated to improving the lives of the many millions of Americans who suffer from this widespread but poorly understood disorder.  Its mission is to raise awareness of rosacea, provide public health information on the disorder and support medical research that may lead to improvements in its management, prevention and potential cure. Comprehensive information and materials on rosacea are available on the NRS website at www.rosacea.org.  Follow The National Rosacea Society on Facebook, Twitter or Pinterest for up-to-date information and tips on rosacea.  Information may also be obtained by writing the National Rosacea Society, 111 Lions Dr., Ste. 216, Barrington, Illinois 60010; via email at info@rosacea.org; or by calling its toll-free number at 1-888-NO-BLUSH.
PR Contact
Barbara Palombo / Mary Erhard