Rosacea Clinical Scorecard
The National Rosacea Society supplies a Rosacea Clinical Scorecard to help physicians identify and evaluate the potential signs and symptoms of rosacea, based on the standard classification and grading systems for rosacea developed by a consensus committee and review panel of 17 rosacea experts worldwide.
The scorecard, in pads of 50 sheets, is available to clinicians via the Physician Materials Request Form. A sample scorecard in PDF format can be downloaded here (requires Acrobat Reader).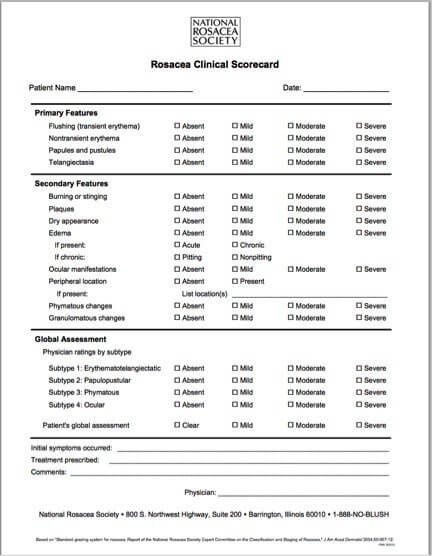 Contact Us
Phone:

1-888-NO-BLUSH

Email:
National Rosacea Society
196 James St.
Barrington, IL 60010
Our Mission
The National Rosacea Society is a 501(c)(3) nonprofit organization whose mission is to improve the lives of people with rosacea by raising awareness, providing public health information and supporting medical research on this widespread but little-known disorder. The information the Society provides should not be considered medical advice, nor is it intended to replace
consultation with a qualified physician. The Society does not evaluate, endorse or recommend any particular medications, products, equipment or treatments. Rosacea may vary substantially from one patient to another, and treatment must be tailored by a physician for each individual case. For more information, visit About Us.