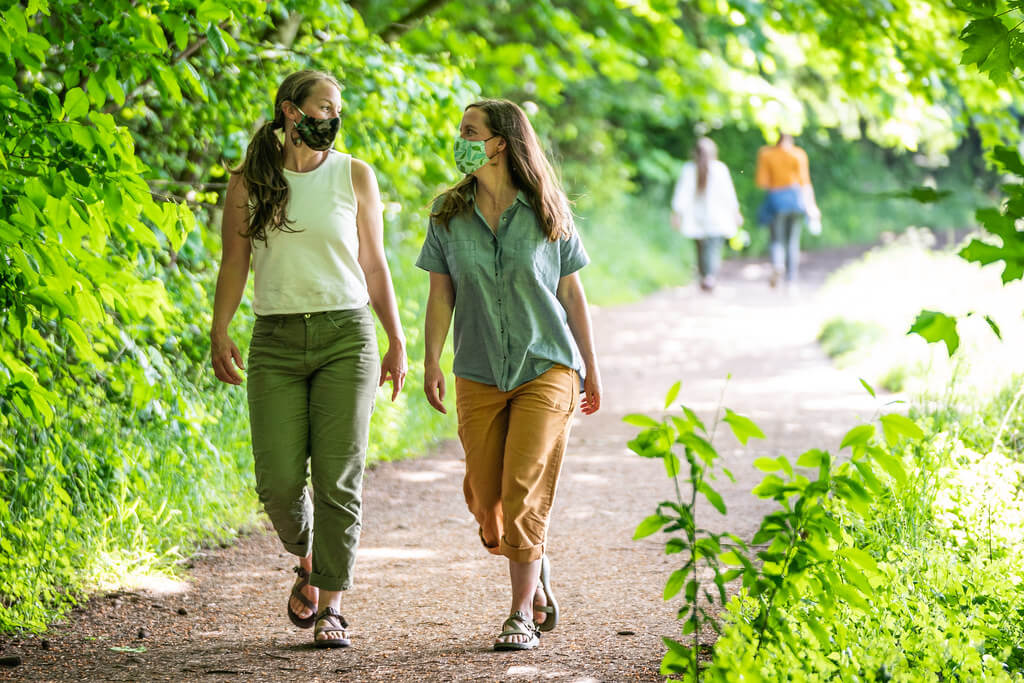 Almost from the start of the COVID-19 pandemic, people with acne and rosacea have reported new or worsening symptoms due to long hours wearing protective face masks. Now a study examining mask-related rosacea and acne symptoms, popularly referred to as "maskne," during the COVID-19 pandemic confirms that not only does prolonged mask wearing cause them to get worse, but quality of life suffers as well.
Dr. Giovanni Damiani, a clinical dermatologist at the Galeazzi Orthopaedic Hospital in Milan, Italy, presented the findings of his research team at the annual congress of the European Academy of Dermatology and Venereology in January. The researchers examined the skin of 30 acne patients and 36 rosacea patients before the pandemic quarantine began and again six weeks in. Of the rosacea patients, 23 had bumps and pimples (papules and pustules) and 13 suffered from facial redness (erythema); 22 were women and 14 were men. The participants with rosacea wore face masks for an average of eight hours a day during quarantine.
By every evaluation measurement the researchers used in the study, both acne and rosacea patients' conditions were significantly worsened by prolonged mask wearing.
Among the rosacea patients, the average score on the Global Flushing Severity Scale was 2.56 pre-quarantine and rose to 3.97 after after six weeks. Among those with bumps and pimples, the flushing score climbed from 1.83 to 2.78, and rose from 3.85 to 6.08 in those with facial redness. Similarly, scores on the Clinician's Erythema Assessment, which measures persistent redness, rose from 1.09 to 1.7 in patients with bumps and pimples, and from 2.46 to 3.54 in those with facial redness. Furthermore, both physicians and the patients themselves gave the patients significantly worse assessments on the Investigator Global Assessment and Patient's Self-Assessment, respectively.
As their rosacea symptoms worsened, so did patients' quality of life. On the Dermatology Life Quality Index, in which a lower score is better, scores climbed from 7.35 to 10.65 in rosacea patients with bumps and pimples and from 5.15 to 8.69 in those with facial redness after six weeks of quarantine.
Dr. Damiani advised dermatologists to intensify therapy when rosacea patients report any worsening of their symptoms in connection with use of face masks, and noted that the type of mask worn may be a factor in how badly a patient is affected.
While this may be disheartening news for rosacea sufferers, the risk to your skin should be weighed against the risk of contracting COVID-19 or passing it to others. Even during a flare-up, it's important to follow public health directives and wear masks when and where they are required.
In addition to mask wearing, stress and anxiety may also cause a flare-up of rosacea. Though a flare-up may be more likely, rosacea patients should not despair, because there many factors to promote skin health that are still within our control. These include other measures in addition to medical therapy to help maintain remission.
"It's important to stick to your skincare routine, keep your schedule, and maintain the semblance of a normal life, even if you aren't going to be leaving the house or working like you might normally," said dermatologist and psychiatrist Dr. Amy Wechsler. "Sleep patterns play an important role in how we deal with stress too, so don't stay up so late if you don't normally."
Dr. Weschler also advocated for spending time outdoors, weather permitting, while following proper guidelines. Read more about how to avoid a rosacea flare-up during the pandemic in our recent blog post.
Reference:
Damiani G, Gironi LC, Grada A, et al. COVID-19 related masks increase severity of both acne (maskne) and rosacea (mask rosacea): multi-center, real-life, telemedical, observational prospective study. Dermatol Ther 2021 Feb 3:e14848. doi: 10.1111/dth.14848. Epub ahead of print.