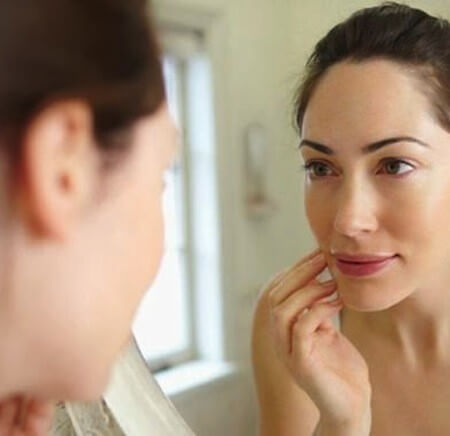 The National Rosacea Society has been sharing members' success stories in the Rosacea Review newsletter since its founding. In addition to inspiration, these personal journeys offer useful insights and suggestions on how to overcome this often life-disruptive condition.
Seek medical therapy and stick to it: Cielo Figuerola suspected she had rosacea for years. Finally she sought treatment and began using medical therapy prescribed by her doctor. By avoiding stress, sun exposure and other top triggers, and sticking to her prescribed medication, she's managed to make her rosacea symptoms just about disappear.
Read ingredient labels: Molly Row reduced her flare-ups through medical therapy, but continued to break-out in response to over-the-counter skincare products. She found that even those labeled as recommended for sensitive skin could cause blotchy flare-ups. She took matters into her own hands by reading up on common skincare ingredients and identifying those likely to cause irritation in her individual case. Row began to read ingredient lists and to use products that contained only substances with a low irritation potential, and says now most people she meets can't tell she has rosacea!
Don't give up hope: Eileen Schwartz found the topical medication prescribed by her dermatologist worked well to control symptoms on her forehead, cheeks and chin. Over the years, however, the symptoms on her nose began to worsen. After trying different recommendations from her doctor and avoiding triggers, her symptoms persisted. She thought about laser treatment but couldn't afford it. Instead of giving up, Schwartz focused on tackling just one symptom: the large, oily pores on her nose. She bought a non-alcohol toner and started applying it twice a day with a cotton ball after cleansing her face and before using her topical medication. To her surprise, not only did her pores begin to shrink, but the cysts and swelling on her nose gradually began to subside!
Don't wait any longer: When it comes to rosacea treatment, it's very important to pay attention to signs and symptoms. Virginia Cox lived in denial, refusing to seek treatment for her redness, pimples and eye irritation. After serendipitously receiving a copy of Rosacea Review in the mail she made an appointment with a dermatologist. Medical therapy now keeps her symptoms in check, and she regrets not having sought treatment sooner.
This year, resolve to be the next inspiring story to be shared with NRS members! What have you overcome? What's worked or hasn't worked for you? Send your success story to rosaceas@aol.com.