Sponsored post
The following announcement was issued by Galderma Laboratories, L.P.:
New First-In-Class Prescription Mirvaso® Gel Now Available for the Treatment of the Facial Redness of Rosacea
Are you trying to cover-up your facial redness from rosacea with make-up or just trying to deal with it? You are not alone. An estimated 16 million people in the U.S. are suffering from rosacea. Until now, there were no FDA-approved treatment options specifically developed and indicated for the most common symptom of rosacea, facial redness.
But now, people suffering from this frustrating and embarrassing symptom of rosacea have an option: the FDA has just approved Galderma's Mirvaso (brimonidine) Topical Gel, 0.33%* for the treatment of persistent facial redness of rosacea in adults 18 years of age or older. Mirvaso Gel is the first and only FDA-approved topical treatment specifically developed and indicated for the facial erythema of rosacea.
Mirvaso Gel works quickly and the effects of the once-daily application can last up to 12 hours. The topical gel is believed to work by constricting the dilated facial blood vessels to reduce the redness associated with rosacea.
To find out whether Mirvaso might be right for you, speak with your dermatologist.  You can also learn more at www.mirvaso.com.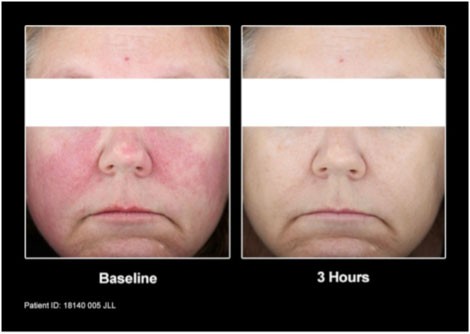 Patients from the clinical trial before and after treatment with Mirvaso Gel.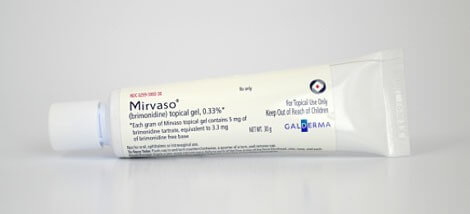 Mirvaso Gel product tube.
Important Safety Information - Mirvaso Gel
Indication: Mirvaso® (brimonidine) Topical Gel, 0.33% is an alpha-adrenergic agonist indicated for the topical treatment of persistent (nontransient) facial erythema of rosacea in adults 18 years of age or older.  Adverse Events: In clinical trials, the most common adverse reactions (≥1%) included erythema, flushing, skin-burning sensation and contact dermatitis. Warnings/Precautions: Mirvaso Gel should be used with caution in patients with depression, cerebral or coronary insufficiency, Raynaud's phenomenon, orthostatic hypotension, thromboangiitis obliterans, scleroderma, or Sjögren's syndrome. Alpha-2 adrenergic agents can lower blood pressure. Mirvaso Gel should be used with caution in patients with severe or unstable or uncontrolled cardiovascular disease. Serious adverse reactions following accidental ingestion of Mirvaso Gel by children have been reported. Keep Mirvaso Gel out of reach of children.  Not for oral, ophthalmic, or intravaginal use.
You are encouraged to report negative side effects of prescription drugs to the FDA.  Visit www.fda.gov/medwatch or call 1-800-FDA-1088.
*Each gram of gel contains 5 mg of brimonidine tartrate, equivalent to 3.3 mg of brimonidine free base