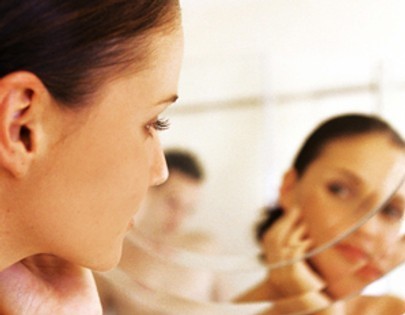 Stephanie Zimmerman first noticed her rosacea-like symptoms when she moved from sunny Florida to blustery New York City several years ago.
"I would get a pink flush and these weird, small bumps on my cheeks," said the 27-year-old Zimmerman, who is of Jewish descent and has fair skin.
Thinking the bumps were due to dry skin, Stephanie turned to her skin-care regimen, trying out several over-the-counter facial moisturizers but unsure what to do with her persistently red nose and cheeks.
After returning to Florida briefly, Stephanie saw her symptoms diminish only to find them resurface when she moved last winter to Chicago, once again experiencing an inflamed nose, red cheeks and hot face, particularly when coming in from the cold.
Stephanie initially thought she might be having a bad reaction to wine, but then she also noticed her symptoms flared when eating spicy and hot foods, particularly one of her neighborhood favorites, Vietnamese pho soup. During this time, she further saw her symptoms increase in severity as she navigated a new move, job transition and wedding planning.
After a friend mentioned that she might have rosacea when her face immediately flushed after a few sips of wine one day, Stephanie visited rosacea.org to learn more, and found that many of her triggers -- cold weather, alcohol, hot and spicy food and stress -- were listed as common rosacea triggers. Stephanie said she is especially worried when it comes to her nose.
"I don't mind the mild redness here and there, but when I have an inflamed nose, I am a little embarrassed," she said. Although more common in men, nasal inflammation can lead to subtype 3 (phymatous) rosacea, which may include redness and thickening of the skin on the nose as well as irregular surface nodules. 
Recently, she has also been experiencing unexplained hives, which may be unrelated to rosacea. With a new job and insurance, Stephanie is now planning to visit a dermatologist for a medical diagnosis.
"Other serious disorders, such as lupus erythematosus or carcinoid syndrome, may be associated with symptoms similar to rosacea," said Dr. Joseph Bikowski, director of the Bikowski Skincare Center in Sewickley, Pennsylvania. "It's important for anyone who suspects they may have rosacea to see a dermatologist for a professional diagnosis and appropriate medical therapy."