Special Newsletter on Persistent Erythema in Rosacea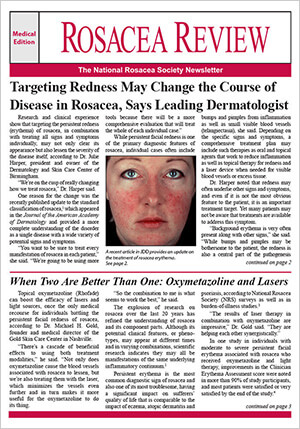 Persistent facial erythema is the primary diagnostic feature of rosacea and the one patients report as the most disruptive. The National Rosacea Society (NRS) has produced a free PDF to help educate healthcare providers on treatment modalities, clinical experience and burden of disease.
This special issue of Rosacea Review includes an overview with Dr. Julie Harper, president and owner of the Dermatology and Skin Care Center of Birmingham and a member of the NRS medical advisory board, guidance on the use of oxymetazoline with light devices, and a summary of recommendations for treatment recently published in JDD.
Webinar on Erythema
The NRS presented a webinar for healthcare providers on persistent facial erythema via Facebook Live on April 14, 2022. In the webinar, Dr. Julie Harper provides a discussion of targeted treatment options that can relieve this troubling feature as well as an overview of rosacea diagnosis, its potential causes and the psychosocial impact on patients.
Update on Facial Erythema in Rosacea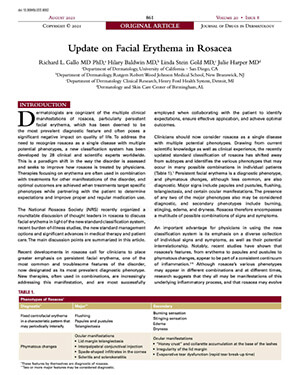 New recommendations urging dermatologists to place greater emphasis on persistent redness in rosacea were recently published in the Journal of Drugs in Dermatology. Titled "Update on Facial Erythema in Rosacea," the article was based on a recent NRS roundtable to discuss this key aspect of the disorder in light of its recently updated standard classification system and standard management options, new burden-of-illness study results, and significant advances in medical therapy and patient care. The article may be read in full on the JDD website.
Gallo RL, Baldwin H, Gold LS, Harper J. Update on Facial Erythema in Rosacea. J Drugs Dermatol. 2021 Aug 1;20(8):861-864. doi: 10.36849/JDD.6062. PMID: 34397189.
Made possible by a grant from EPI Health.