Alcohol gets a bad rap when it comes to rosacea, and for good reason -- more than 50 percent of surveyed patients cited alcohol consumption as a common rosacea trigger. But that doesn't mean those sensitive to alcohol have to be stuck sipping water all summer long. Now that it's al fresco season, these non-alcoholic spins on cocktails, aka mocktails, offer a fun way to say cheers without the flare-up.
Summer means sangria, but its inclusion of red wine as a main ingredient could cause havoc for some rosacea patients, as 76 percent in an NRS survey pointed to red wine as a source of their flare-ups. This version from popular blog The Kitchn trades red wine for black tea, pomegranate juice and orange juice and perks it up with fresh citrus. If citrus exacerbates your condition, use soda water in place of the orange juice and a different fruit for garnish, such as peaches or grapes. 
(Non-Alcoholic) Sangria
Serves 8
2 cups boiling water
2 black tea bags (or 2 teaspoons loose-leaf tea in an infuser)
2 cinnamon sticks
1/2 cup sugar
3 cups pomegranate juice
1 cup freshly squeezed orange juice
1 orange, sliced into thin rounds
1 lemon, sliced into thin rounds
1 lime, sliced into thin rounds
1 apple, cored and cut into 1/2-inch chunks
3 cups carbonated water
Pour boiling water over tea bags and cinnamon sticks and steep for 5 minutes. Discard tea bags and stir in sugar to dissolve. In a large jar or pitcher, combine tea, cinnamon sticks, pomegranate juice, orange juice, orange, lemon, lime, and apple. Refrigerate for at least 1 hour and preferably overnight. Just before serving, stir in carbonated water. Serve in glasses over ice.
(Photo credit: Emily Han)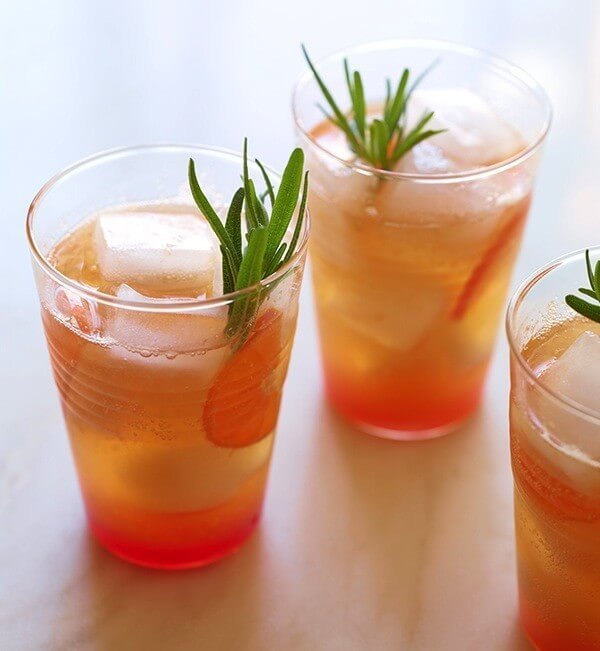 The chimes of an ice cream truck coming down the street during summer might elicit thoughts of creamsicles -- and so might this creamsicle-inspired mocktail that blends rosemary simple syrup, fresh squeezed tangerine juice and cream soda for a refreshing and inviting drink. 
Cranberry, Tangerine, Rosemary & Cream Soda Mocktail
Serves 4
1 cup granulated sugar
1 cup water
3 rosemary sprigs, lightly bruised
1 cup fresh squeezed tangerine juice
1 1/3 cups cranberry juice
2 cups cream soda
For Rosemary Simple Syrup: Place sugar and water in a small pot and simmer until sugar dissolves, stirring occasionally. Stir in rosemary, remove from heat, cover, and allow mixture to steep together for 1-2 hours. Discard rosemary sprigs and chill simple syrup in the refrigerator until ready to use. Fill four glasses with ice. Pour 2 tablespoons rosemary simple syrup into each glass and top with 1/4 cup of tangerine juice. Add 1/3 cup of cranberry juice into each glass and stir together. Finish each mocktail with cream soda and garnish each with a sprig of rosemary. 
(Photo and recipe courtesy of Lilly Pulitzer.)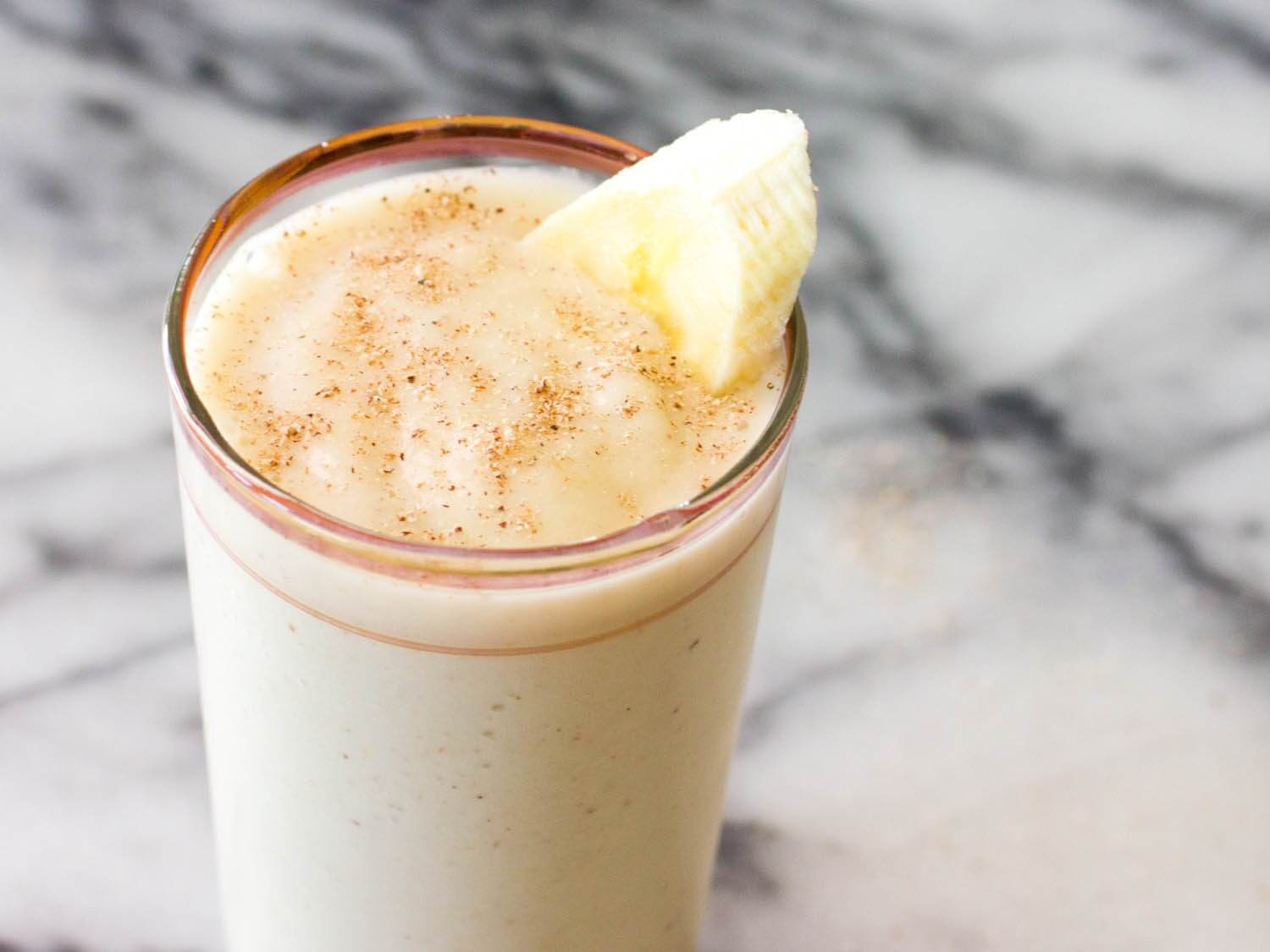 If you like your drinks blended, this take on the famed Puerto Rican drink, the Coquito, ditches rum for coconut milk and banana, and doubles as a kid-friendly smoothie as well as a patio pleaser and summer cooler. Bonus points: it packs a healthy, nonalcoholic punch. 
Coquito Smoothie
Makes 1
2 frozen bananas, broken in half
1 1/4 cup chilled coconut milk from a carton
2 tablespoons maple syrup
3/4 teaspoon ground nutmeg, plus more for garnish
Combine the bananas, coconut milk, maple syrup, and nutmeg in a blender. Pulse a few times to begin to break up the bananas then blend on high until completely smooth, about 1 minute. Serve garnished with additional nutmeg if desired.
(Recipe courtesy of Serious Eats. Photo credit: Autumn Giles.)
For more creative mocktail recipes, visit our "Mocktails" Pinterest Board.