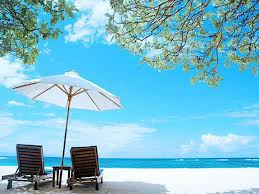 Summer may bring nostalgia for afternoons spent lying in the sun, but for many with rosacea even a simple sunny day now presents a challenge.
In an NRS survey, 81 percent of sufferers reported sun exposure to be one of their top triggers for flare-ups. While the exact process behind this sensitivity is not yet known, precautions can be taken to enjoy the summer without regret. Here are a few tips and reminders to help prevent flare-ups.
When you think of sun, think of sunscreen. Sunscreen with an SPF of 15 or higher should be in every rosacea patient's toolbox. Be sure to select a gentle sunscreen that protects against both ultraviolet B (UVB) rays, which burn skin, and ultraviolet A (UVA) rays, which age skin. Look for non-chemical sunscreens that contain zinc or titanium dioxide and apply at least 30 minutes before sun exposure to ensure absorption, and don't forget to reapply if you're outside for an extended period. If you find a particular product causes irritation, discontinue use.
For unexpected events during the summer, such as last minute barbeques or games in the park, keep a "survival kit" in your car. Include a travel size bottle of sunscreen, a miniature spray bottle to fill with cool water for mid-day refreshers, and wide UVA/UVB sunglasses -- especially good for ocular rosacea.
While the beach or park may be the most obvious sources of sun exposure, places such as driving your car and riding a train or even sitting next to a window at work or a coffee shop could leave you exposed. Such situations may be unavoidable, but awareness of where and when you might be exposed to sun and heat may help you better prepare for it.
Accessories such as wide brim hats protect both your face and eyes, particularly if you have ocular rosacea from the sun, and a hand-made cooling neck wrap can be a stylish way to cool down while getting crafty.
Or, borrow from fellow rosacea patient's tips submitted to our "It Works for Me" section: one patient relies on chilled, sliced cucumbers for their cooling effect and another keeps a portable, hand held, battery-operated fan nearby at all times to help reduce flushing in hot weather.
Got a tip not listed here that works for you? Email it to itworksforme@rosacea.org.