A Year of Progress: 2015 in Review
Posted: 01/04/2016
From advances in rosacea research to global public awareness, 2015 was a banner year for rosacea. Here's a look back:
Research Hits New Strides
Awareness Reaches New Heights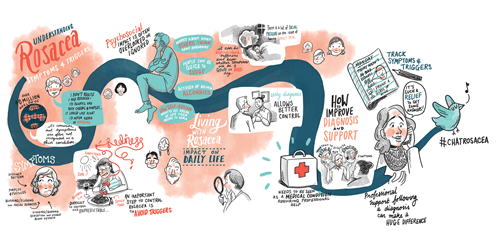 The NRS is Growing
Today researchers are closer than ever to understanding the physical causes of rosacea, which may lead to significant advances in its treatement, prevention and potential cure. In 2016, the NRS looks forward to continuing to raise awareness of rosacea and supporting medical research while serving the more than 16 million Americans estimated to suffer from this often life-disruptive disorder.
Thank you!

To help the NRS continue to fund important research into this common and often devastating disorder, please consider making a tax-deductible donation. Simply donate online, or send a check to the National Rosacea Society, 196 James Street, Barrington, IL 60010.
Contact Us
Phone:

1-888-NO-BLUSH

Email:
National Rosacea Society
196 James St.
Barrington, IL 60010
Our Mission
The National Rosacea Society is a 501(c)(3) nonprofit organization whose mission is to improve the lives of people with rosacea by raising awareness, providing public health information and supporting medical research on this widespread but little-known disorder. The information the Society provides should not be considered medical advice, nor is it intended to replace
consultation with a qualified physician. The Society does not evaluate, endorse or recommend any particular medications, products, equipment or treatments. Rosacea may vary substantially from one patient to another, and treatment must be tailored by a physician for each individual case. For more information, visit About Us.